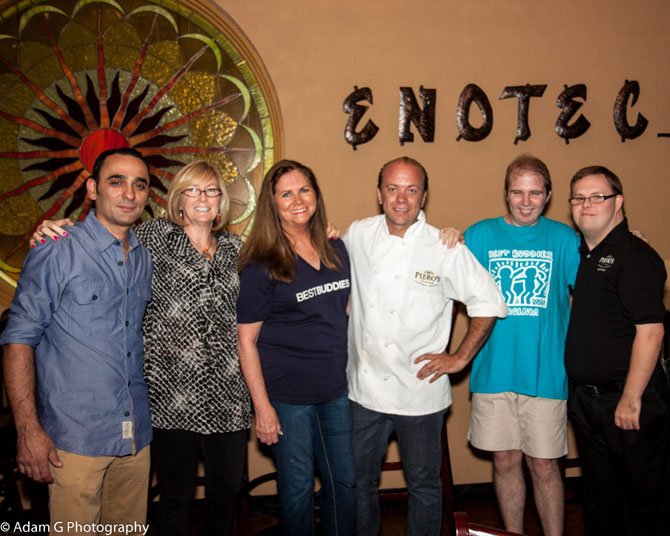 Fairfax — Piero's Corner Italian Restaurant will host a Best Buddies fund-raiser Sunday, Sept. 16, at 5 p.m. for its busboy, Eric Latcheran of Chantilly, and his friend Ryan Gutkowski of Clifton. The restaurant is at 9959 Main St. in Fairfax.
Eric, 25, and Ryan, 24, have intellectual disabilities and are raising money so they may participate in the fun run at the annual Best Buddies Challenge, Oct. 20, in Washington, D.C.
They're co-hosting the Fairfax event with their moms, Gina Latcheran and Mary Jane Gutkowski, at the invitation of the restaurant's owner, Gian Piero Mazi, and its manager, Benny Geruardi. On Sept. 16, Piero's will donate a percentage of its food proceeds that night toward the cause.
Every year since 2007, when they met, Mazi has supported Eric and his advocacy for Best Buddies Virginia. This year, their friend Bob Smith, former White House pianist, will perform during the event on the baby grand, accompanied by both professional and aspiring singers.
Details
Piero's Corner Italian Restaurant
9959 Main St., Fairfax
Reservations suggested, call 703-246-6097
Best Buddies Fundraiser
Sunday, Sept. 16 — 5 p.m.
"Eric is so proud of his job at Piero's and his friendship with Gian," said Gina Latcheran. "Best Buddies is all about making local residents more aware and involved, as well as visible supporters in the lives of all the intellectually challenged individuals of all ages active in their community."
Best Buddies brings people with intellectual disabilities together with peer buddies in friendships that, one by one, are creating opportunities in schools — and, post graduation, in the community and workplace.
Eric and Ryan have been friends since they met in special-ed preschool at Poplar Tree Elementary in the early 1990s. Today, they still live 10 minutes from each other, are still friends and have been advocates for Best Buddies Virginia since their high-school days.
"Gina and I couldn't be prouder of them, and we credit Best Buddies Virginia with enriching their lives," said Latcheran. "Whether at GMU where Ryan's an intern in The Mason Life Program, or at Piero's Corner restaurants in Fairfax and Herndon where Eric works, Best Buddies has opened doors and created lasting friendships for both of them and their mothers."
Hoping for a good turnout for the Sept. 16 fund-raiser, Latcheran said, "Great food, great wine, great music and great friends will make it a memorable, Best Buddies evening." To participate, diners just have to mention Best Buddies. Reservations are suggested; call 703-246-6097.