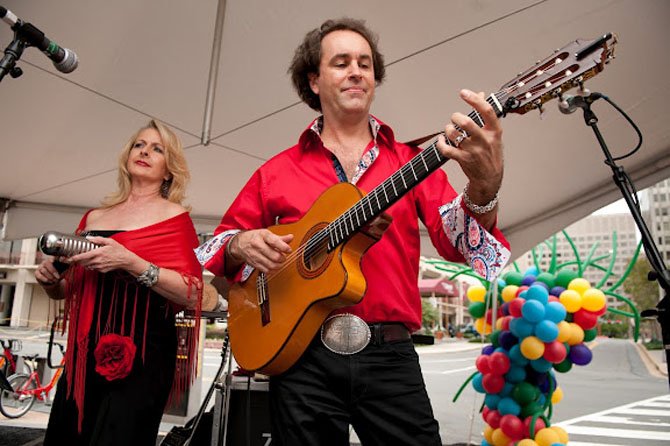 Arlington — Crystal City uncorks good times along with food and wine at this year's Vintage Crystal: Taste of Wine and Jazz on Sunday, Sept. 16. Now in it's 6th year, the event promises to build on a distinctly Latin theme.
Live performances by the D.C.-based rumba group Trio Caliente, Spanish style wines and tapas galore are all part of the fun. A generous helping of fine weather, with temperatures expected in the low 80s, means this year's event promises high spirits in a relaxed atmosphere.
"It's a very laid back event, a beautiful way to spend a day," said Angela Fox, president and CEO of the Crystal City Business Improvement District. "It's a wine-centered event, the whole industry is burgeoning. There's been so much positive feedback about the event, people want to drink really yummy wine."
ACCORDING TO JIM BARKER, president and founder of the Washington Wine Academy, the Washington, D.C. area is a top market for wine. "The D.C. area is more of a wine drinking community, we tend to have a higher educated consumer base for wine and beer," said Barker. "The event is a chance to expose people to new trends."
The Washington Wine Academy will host sample wine education classes every thirty minutes at the event. Professional connoisseurs will provide tips and tricks on wine, and the wide range of reds and whites mean people of all palate preferences are sure to walk away satisfied with a new find.
"It's all about making people feel good about life." — Michael Bard, guitarist with Trio Caliente
Organizers estimate crowds of up to 7,000 people will gather at the courtyard of 220 20th St, which means those who plan to take part in the festivities should consider the metro at Crystal City station on the Blue and Yellow lines. The choice of venue also means there will be no street closings.
Trio Caliente, a veteran musical group to the Taste of Wine and Jazz events, will provide the live tunes. The group infuses flamenco, pop rock and Brazilian jazz into energetic rumba, with a signature sound meant to have people get up and dance. "People like to dance, the sensibility is so groove infectious," said Michael Bard, guitarist with Trio Caliente. "It's all about making people feel good about life."
Details
The 6th annual Taste of Wine and Jazz event in Crystal City will be held Sunday, September 16 from 2-6pm. The event is located at the courtyard at 220 20th St. in Arlington, VA, and tickets run $20. For more information visit: crystalcity.org.