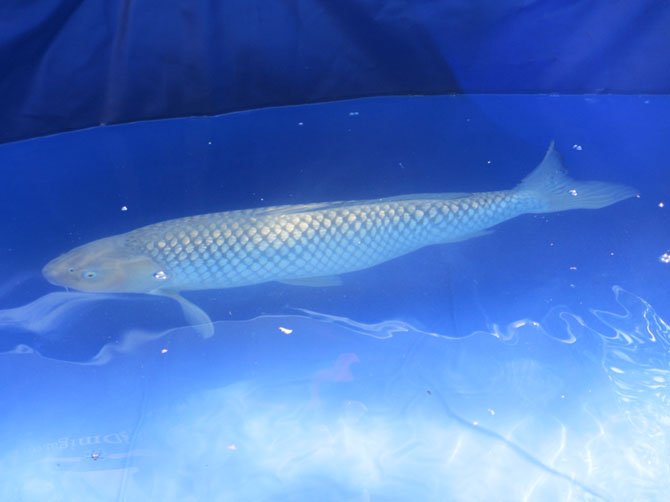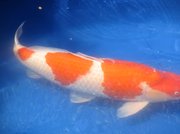 Over the weekend of Sept. 8, Meadowlark Botanical Gardens turned into a nirvana for koi fans. The ZNA Potomac 19th Annual Koi Show returned to Meadowlark for the fourth consecutive year, bringing in koi owners and Meadowlark visitors. The koi show was open to the public and free.
"It's so enjoyable," said koi exhibitor Chuck Lockard, Vienna, who also maintains a saltwater pond. "I have a patio, I sit outside and watch them. It's a fabulous hobby, and it ties into my landscaping and gardening."
Lockard's kidney-shaped pond holds about 18,000 gallons of water and 25 koi.
Vienna was well-represented at the Potomac koi show. Other koi hobbyists from the Vienna area entered their koi, as well, or came to the show to buy koi for their home ponds.
"Raising koi is a lot of fun," said Vienna hobbyist Gretchen Lindsey, who bought her home with a koi pond already in the yard. The previous owners had not constructed their own koi pond in their new house so Gretchen and her husband were left to care for the ones left at the Lindsey home. "All we had to do was feed them. I thought, 'this is easy.'"
WHILE FEEDING KOI may be "easy," keeping them is harder and more expensive. Koi ponds take up a large area of space and have extensive filtration systems. The colorful carp live in their pond homes throughout the winter and are not fed by humans from winter to April.
Gusts of wind and rain mid-Saturday afternoon chased guests into cars and shelter but as soon as the storm moved out, the show resumed. A woman's hat blew into a koi pool, terrifying the koi's owner. The koi did not appear to be bothered by the storm.
"This is a very diverse group of people," said Turelle Holmes, vice president of Potomac chapter programs. Of the 206 koi entered in the show, 25 were Holmes'. "You have people of all different kinds of careers and budget raising koi."
Competing were more than 200 koi, owned by 23 hobbyists from the mid-Atlantic region, from Pennsylvania and Maryland to the south of Virginia. The club ran a double-slate, for Class A and Class B entries, the only one of its kind in the country. Judges awarded trophies for grand champion, adult and young koi.
ZNA [Zen Nippon Airinkai] chapters follow Japanese standards for breeding and judging. Head Judge Kunizo Narita flew in from Chiba, Japan, expressly for the competition. The committee, led by Narita, judged the koi on body conformation, skin colorations, patterns and artistic quality.
In addition to the koi pools, there were eight vendors selling pond equipment and filtration, koi and accoutrement of the hobby. Included in the programming were guest speakers and activities. A representative from Novartis pharmaceuticals spoke on the KHV vaccine for koi. The koi herpes virus is deadly and highly-contagious. Exhibitors erected barriers at the show to mitigate contamination.
MANY VISITORS to Meadowlark Botanical Gardens wandered over to the grounds housing the koi show. The detour to the show by Betsy and John Knab of Great Falls was not planned.
"We didn't know about the show," said Betsy Knab, strolling around the pools with her husband. "We came over to enjoy them and we're stunned by their beauty.
"We might come back next year. I think they're gorgeous."
The ZNA Potomac chapter holds meetings monthly at members' homes. To learn more about the chapter, go to http://www.znapotomac.org/ or visit the club's Facebook page at https://www.facebook.com/znapotomac for photos from the 2012 koi show.
More like this story