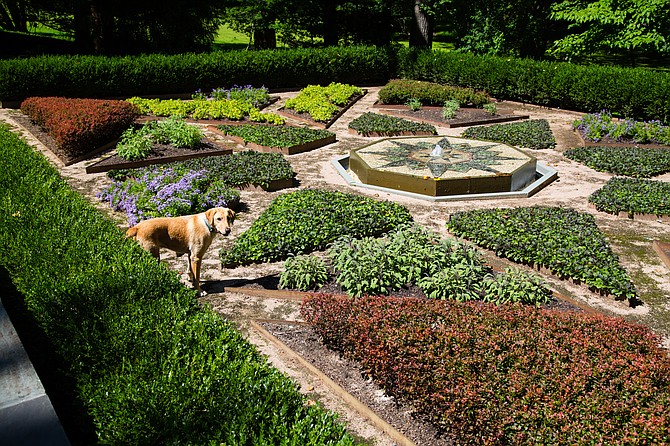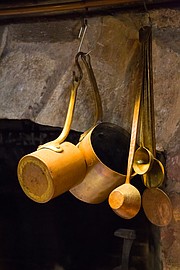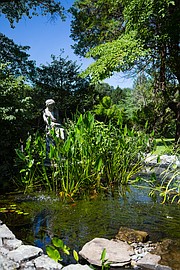 Mark your calendar for Tuesday, April 24, 2018, as the Garden Club of Fairfax invites you to this year's Historic Garden Week Tour in Great Falls, McLean and Vienna.
Experience 250 years of history in the once agricultural hills of northern Fairfax County. Near the village of Great Falls is the William Gunnell home built in 1750 as a hunting lodge for Lord Fairfax. Stroll through a quilt garden designed by the current owner, a well-known quilter, and enjoy carefully tended fruit and vegetable gardens as well as landscaped vistas.

In the historic town of Vienna, explore an 1892 home built on the grounds of the Grange Camp and a charming cottage designed by a couple as a "sensible home" to retire-in- place.
A transitional executive home with a waterfall garden is showcased in nearby McLean. Tour headquarters are at Meadowlark Botanical Gardens, 9750 Meadowlark Gardens Court, Vienna, where admission and refreshments are included with the tour ticket.
Access to William Gunnell House is only by shuttle bus. Pick-up and drop-off at Great Falls Library, 9830 Georgetown Pike, Great Falls. Tickets available at the Library. Advance Tickets: $40 per person www.vagardenweek.org or by mail before April 17. Send a self-addressed stamped envelope and check made out to The Garden Club of Fairfax to Marty Whipple, 11508 Yates Ford Road, Fairfax Station, VA 22039. (703) 978-4130 or Fairfax@vagardenweek.org for questions. $50 day of tour.
As part of the Garden Club of Virginia's 85th Historic Garden Week, this tour will be one of thirty statewide tours held April 21-28, 2018 featuring nearly 200 of Virginia's most picturesque gardens and private homes. Proceeds from this celebrated event fund the restoration and preservation of more than 40 of Virginia's historic public gardens and landscapes, a research fellowship program, and a new partnership with the Virginia State Parks. Iconic landmarks such as Mount Vernon, the Pavilion Gardens at the University of Virginia and the Woodrow Wilson Presidential Library have been restored to their original splendor due to the hard work of thousands of volunteers, the generosity of countless home and garden owners, and the nearly 30,000 visitors from around the world who have enjoyed the tours.
For more information about our Great Falls-McLean-Vienna Tour, and to buy tickets online, go to www.vagardenweek.org. The statewide schedule for HIstoric Garden Week is also listed.
Tour Headquarters, Facilities and Special Activity: Meadowlark Botanical Gardens, 9750 Meadowlark Gardens Court, Vienna. Tickets, maps and restrooms available on tour day.
There will be a free King's Park Flutes Concert 10 to noon. Tour tickets: $50 per person available on tour day at Meadowlark Botanical Gardens and at tour homes.
Suggestions for lunch from the Garden Club: L'Auberge Chez François, The Old Brogue, Our Mom Eugenia, Brx American Bistro, Dante Ristorante and Zamarod Restaurant in Great Falls. Panera Bread, Clarity Restaurant and Maple Wood Grill in Vienna.
WILLIAM GUNNELL HOUSE, Innsbruck Avenue, Great Falls The original home is a hall-and-parlor structure built in 1750 on 12,588 acres owned by Thomas, sixth Lord Fairfax, for whom the county is named. William Gunnell III (1750-1820), first known resident of the home and believed to have been caretaker for Lord Fairfax, purchased it in 1791 and constructed an addition for his large family, making it one of the area's grandest manor homes with a 1,500-acre plantation and numerous outbuildings. One outbuilding, c.1770, survives today. The home was in the Gunnell family until 1913. Twentieth century additions are unobtrusive and compatible with the home's 18th century Colonial and post-Revolution styles. In 1934 a log cabin tavern was moved here from Ruby, Virginia, to become a dining room with a massive stone fireplace at one end. The now 10-acre property includes a large farm pond, Virginia's fifth oldest measured hemlock, boxwood lined paths, flower, fruit, vegetable and herb gardens, and grape and rose arbors. The homeowner, a world-renowned quilter and fabric designer, designed the property's quilt garden, best viewed from a large vine-covered pergola. The star pattern quilt bedspread design in the master bedroom is repeated in a leaded glass panel in the master bath, in a wrought iron railing and in the quilt garden. National Register of Historic Places. Accessible only by shuttle bus. Jinny and John Beyer, owners.
MONTVALE WAY, McLEAN Located within a 255-acre wooded community of 166 homes in McLean, known as "The Reserve," this two-level executive style home was built in 2001 by one of the premiere builders in Northern Virginia. An exterior of bisque and gray brick construction is framed by stone pillars and enhanced by a paved circular drive. Mature trees, grasses and a massing of bulbs, perennials and shrubs provide four seasons of interest. An armored soldier stands guard, injecting a whimsical tone. Warm tones of beige and brown and faux-painted walls on the first floor act as a backdrop for the mix of old and new in art, furniture and family treasures. A sunroom is the perfect spot to enjoy the backyard koi pond and extensive landscaping designed and implemented by the homeowners. Sandra and Robert Varney, owners
THE GRANGE CAMP, Redwood Drive, Vienna The exterior front of this Folk Victorian home with a Federalist front porch is essentially unchanged from its 1892 appearance. Alexander Wedderburn, a successful printer and publisher in Alexandria, purchased the property and built a summer home on 42 acres previously owned by the post-Civil War Grange movement and used for annual summer fairs for farmers and their families. Every room reflects the homeowners' love of family and respect for the history of the home. Original windows and interior doors are displayed as pieces of art and original wood molding was salvaged to become paneling in the powder room. A schoolhouse chair and piano are from Ms. Dyer's mother's school in Connecticut. Her father, a furniture maker and refinisher, refurbished the piano, a Singer sewing table and other pieces. The needlepoint on a living room chair was done by Mr. Smith's grandmother. Mature trees provide shade and privacy to enjoy an array of flowering shrubs and specimen trees on the 1.7 acre property. Bob Smith and Alison Dyer, owners.
CENTER STREET NORTH, Vienna From drawing board to completion, the homeowners envisioned a "sensible" home allowing for present-day living and entertaining within an open floor plan, and the flexibility of converting the current den to an additional first floor bedroom and bath for aging in place for this Custom built, 2011 modern Cape Cod cottage in historic Vienna. As the owner of REfind, a Vienna boutique, the homeowner mixes vintage with fresh accessories throughout this three-level cottage. Favorite art pieces include an original oil of a whimsical cow by Greg Osterhaus in the kitchen/dining area, and an original landscape by a local artist in the master bedroom. A screened porch off the dining room serves as a second living room, allowing unobstructed views of the gardens which were designed to be low maintenance with native plants, and compatible with the historic Vienna neighborhood. Three large crepe myrtles at the front of the home expand out into layers of mass plantings of perennials, shrubs, and spring blooming bulbs. Carey and David Williams, owners.
The Garden Club of Virginia's horticultural programming inspires one of Historic Garden Week's greatest attractions: the world-class floral arrangements created by club members. We estimate that over 2,300 fabulous arrangements, using greenery and flowers grown in members' own gardens, will decorate the featured homes on this year's tours.
Places of Interest:
Meadowlark Botanical Gardens, 9750 Meadowlark Gardens Ct., Vienna. This 9.5 acre park includes large ornamental display gardens and three native plant collections. There are paved walking trails, three lakes, four gazebos and a restored 18th century farmhouse, as well as more than 20 varieties of cherry trees, azalea, lilac and peony collections, irises, a hosta and fern garden and a children's garden. An interactive exhibit on plant diversity, an indoor tropical garden and the Korean Bell Garden are highlights.
Freeman Store and Museum, 131 Church St. NE, Vienna. Built in 1859 to serve as a general store, hotel and a dwelling for the shopkeeper's family, the building took on a number of roles including housing soldiers as a makeshift hospital during the Civil War. In 1861, the house, originally known as Lydecker's Store, was a polling place for the secession vote. It operated as a general store until the late 1920s, after which it served as a residence and office until 1955. Owned by the Town of Vienna and operated by Historic Vienna Inc. and is on The Virginia Landmarks Register and The National Register of Historic Places.
L'Auberge Chez François Gardens, 332 Springvale Rd., Great Falls. Owner and Executive Chef Jacques Haeringer continues his family's tradition of serving fresh French classics in the original River Bend Country Store. The restaurant has always had a small garden, which provides seasonal produce and herbs to its kitchen, since opening in 1976. It was expanded about six years ago and now occupies one acre.
GCV Oatlands, 5.5 miles south of Leesburg on Rt. 15. A Greek Revival mansion, c. 1805, once the center of a thriving 3,400-acre plantation. It includes terraced gardens, a portion of which was restored by the Garden Club of Virginia with funding from Historic Garden Week tours.