About 85 residents attended a Town Hall meeting on Tuesday, Sept. 11 concerning long delays in restoring power following the Derecho storm which occurred at the end of June. The event, held at Sherwood Hall Library, was hosted by Del. Scott Surovell and state Sen. Toddy Puller and state Sen. Adam Ebbin along with Dominion Power.
Some residents complained that they had to wait up to 5 days before their power was restored. The storm hit at a time of extreme heat and the lack of air conditioning was especially difficult on many families in the Mount Vernon area. Other residents asked questions about the process for having underground power lines and what the barriers would be. Potential barriers such as obtaining the necessary easements (eminent domain) and costs of installation were discussed.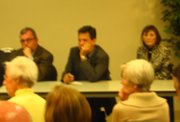 Dominion Power Vice President for Distribution Operations P. Rodney Blevins presented an overview of his company's commitment to reduce restoration times and discussed the challenges of doing so. He also presented the pros and cons of installing underground power lines in the older communities of Mount Vernon.
Blevins pointed out that 63 percent of Dominion Power customers were affected by the unanticipated recent high wind and rain of the Derecho storm. Hundreds of thousands were left without power in northern Virginia. In response they brought in crews from 18 states and Canada to work on repairs and restore power to customers. He also said that the company invests $200 million annually to improve service and said that the power outage time has been substantially reduced in recent years and will continue to improve.
Following the Town Hall meeting Dominion Power spokeswoman Lee-Ha Anderson issued a statement which said, in part, the following: "We had a very good meeting tonight. Dominion will continue to make investments to improve our system, our technology, and our workforce. This evening we heard about concerns about power outages, and we will address those concerns.
"Our reliability, operations, and forestry teams will follow up with residents who provide us with details about their outages. … We recognize there are benefits and challenges to converting overhead lines to underground facilities. We are not opposed to underground distribution lines — in fact 65 percent of the lines in Northern Virginia are underground and new communities are being served with underground distribution lines. There is a cost to the conversion, as well as other issues that have to be resolved, and we will work with the communities that are able to come to an agreement on cost, right of easements, equipment needs, etc.
"For those customers who have questions about underground power line installation or reliability contact us through our toll free line: 1-866-DOM-HELP."
At the conclusion of the Town Hall Meeting, local legislators had the following comments.
State Senator Puller:
"We had a good turnout from the Mount Vernon community to discuss the Derecho and other power outage issues with Dominion officials. A lot of good information was shared, especially local information that should result in improved services," Puller said.
Surovell said, "I believe we accomplished what I had hoped for: a good discussion of the issues that will help in getting information out to the broader community and will sensitize Dominion about the aging infrastructure which the Mount Vernon community is dealing with. I received a lot of comments from my constituents about outages, delay in restoring service, and questions about why their community didn't have underground power lines. Our older communities did not have the benefit of new construction requirements that installed underground power lines. So the discussion tonight was very helpful.
"I was not surprised by the size of the crowd that attended; there is a lot of concern; no one wants to experience 2, 3, or 5 days of power outage again."
In response to a question about follow up actions, Surovell said: "I plan on contacting District Supervisors Gerry Hyland, Jeff McKay, and Chair Sharon Bulova to see if the county has or will explore burying main power lines in our area to improve power reliability. I am also going to look into streamlining ways to promote underground service in communities that want to have them. In addition, I will post a survey on my website to assess the community's interest in burying lines and how much they are willing to pay for it."
Dominion Power's Response
Sept. 12 statement by Dominion Power concerning the "June 29 Derecho Power Outage, and What Dominion is Doing to Improve Service."
Close to 500,000 customers lost power in Northern Virginia from the June 29 storm. 240,000 of the 394,000 customers in Fairfax County lost power.
With each storm, we try to make improvements on our restoration response.
The June 29 storm was very unique in that it did not offer us the opportunity to prepare. This storm was a surprise to everyone in our region. Our system saw catastrophic damage in the aftermath of the storm. We had to rebuild our infrastructure. That takes time. We had excellent resources quickly that helped us with restoration. We don't want customers to be without power for multiple days. We are carefully critiquing our response to look for ways that we can improve our response and communicate expectations so that our customers can make plans and do what they need to do for their individual circumstances.
We are investing $200M each year into our infrastructure. Those investments are making a difference. We will continue that work, knowing it is having a positive impact for our customers. We have several programs including:
Circuit Reconditioning - Refurbishment of overhead lines to eliminate outages due to overhead material/equipment failure, weather, and birds and animals.
Capital Asset Rebuild - Replacement and rebuild aging assets including substation equipment, network facilities, and poles, wire, transformers and protective devices on the target distribution feeders.
Substation Transformer Replacement - We score the health of each of our substation transformers every year and replace the substation transformers with poorest health scores that also have a high impact if a failure occurs.
Components of the substation transformer health score include the substation transformer age, manufacturer, design specifications, testing results, fault history, etc.
Neighborhood Transformer Replacement - As customer load has increased over the years (home additions, additional electric appliances, electronic equipment such as computers, flat screen TV s, cell phones, etc.), the load on our distribution transformers has increased. With this program we perform a detailed analysis to calculate the load on every distribution overhead transformer and replace the transformers with the highest load before they fail on the hottest summer days.
Tree Trimming- We perform cycle trimming on all of our overhead circuits (typically each circuit every 3-years) as well as removal of danger trees from outside our rights-of-way to reduce the likelihood of trees and tree limbs falling on our distribution lines. We spend more than 2 times what we spent on this compared to 10 years ago.
Primary Cable Replacement - As underground primary cables fail, we replace the cable with highly reliable primary cable designed to last 40-50 years without interruption. We also proactively replace spans of cable before they fail, and
install additional spans of cable to provide contingency options to reduce outage duration if an underground outage occurs.
Switch Replacement - Replacement of oil-insulated switches with state-of-the-art SF6 (gas-insulated) switches to reduce the likelihood of failure and to improve the operability of the underground distribution facilities.