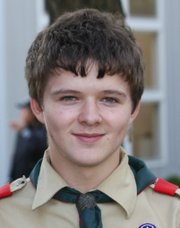 Kevin McCormick, working as a counselor for a local summer youth camp, took his assigned group of campers to one of the local pools on June, 29, 2011.
When his group of campers entered the pool area they became the responsibility of the lifeguards of the pool. Kevin was not trained or hired to be a pool lifeguard at the pool. Because Kevin's responsibilities ended when his group of campers came on deck of the pool, Kevin came out of the bathroom, put his belongings down on a chair and jumped into the pool. Immediately after resurfacing he noticed a motionless person at the bottom of the pool.
Kevin initially thought the camper was trying to see how long he could hold his breath underwater, but tapped the camper with his foot anyway. When he received no response, Kevin pulled the camper out of the water and onto the pool deck. Kevin tried again to get a response from the camper but to no avail.
He then immediately called a lifeguard over for assistance. That lifeguard called for assistance from other lifeguards on duty. CPR was administered by one of the lifeguards to the unresponsive camper, and the camper eventually started to breathe again.
At that point, Kevin rejoined his assigned campers in the bathroom, staying with them until medical personnel and police arrived. Kevin answered questions asked by the police.
Kevin was designated "Counselor of the Week" by the director of the summer youth camp program.
Kevin McCormick was an Eagle Scout in Troop 55, sponsored by St. Francis Episcopal Church of Great Falls at the time of the incident.
He will be presented the Heroism Award at Troop 55's Court of Honor on Oct. 7, 2012. According to BSA officials, the Boy Scouts of America's medals recognition program was initiated in 1911 to recognize scouts and leaders who have saved a life. In 2011 only 130 individuals nationwide were recognized with the Heroism Award; this compares to the approximately 50,000 youths who achieve the rare rank of Eagle Scout every year.