Alexandria — On Sept. 22, the Alexandria Symphony Orchestra will open its concert season with a program titled The Music of Humanity. I'm very excited about our thrilling series of concerts this year and its line-up of dynamic guest artists.
Copland's rousing Fanfare for the Common Man will kick-off this celebratory concert. I am also very excited to be performing Sibelius's Symphony No. 2, which shares a heroic quality with Copland's Fanfare. This transcendently moving work helped cement Sibelius's standing as a national hero because of the humanity that his fellow Finns heard in this extraordinarily stirring score.
The concert will end with Brahms' brilliant Piano Concert No.1 in D minor performed by one of ASO's most popular guest artists, the poetic and fiery Yulia Gorenman. Brahms composed this masterpiece as an ode to fellow pianist and composer Clara Schumann—the only person to whom he could reveal his true humanity.
"You are the music while the music lasts." — T.S. Eliot
The 2012-2013 Season is also my 25th anniversary with the ASO and to celebrate our years together, I have created a special silver anniversary program inspired by you, my fellow Alexandrians. As a way of giving back to the City of Alexandria, my wife Kathryn and I have composed a brand new piece honoring Alexandria that will be premiered at the February concert. In our River Poem, the Potomac River is the memory-keeper—a magical and sacred place through which flow all memories Alexandrian.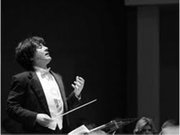 It is you, my Alexandrian audiences, who have not only inspired our River Poem, but have also inspired the entire theme for the Alexandria Symphony Orchestra's 2012-2013 Season, Be the Music. I wonder if you truly know how much you contribute to the power of ASO's music-making. Sitting in your seats during the concert is far from passive. Your involvement with the music creates an energy that is palpable to us—the musicians on the stage. You are co-participants in the creation of the transcendent musical experiences that we treasure at the ASO.
Each concert explores different facets of the ways in which we can "be the music." It will be a season-long celebration of how music can be our shared humanity, inspiration, inheritance, empowerment, and experience.
Join the ASO this season and immerse yourself in the powerful, uplifting, profound, and explosive experience of music. You have helped to make the music of the ASO alive and charged with emotion. It truly can give us an adrenaline rush—all we have to do is open ourselves up and...Be the Music.
Details
Alexandria Symphony Orchestra
2121 Eisenhower Ave., Suite 608
Alexandria
703-548-0885