Alexandria — Join At Home in Alexandria (AHA!) for a special presentation by orthopedic surgeon Dr. Dan Kulund, who will discuss and demonstrate robust walking for seniors — the keystone of the new field of preventive orthopedics. Kulund's presentation, which is free and open to the public, will take place on Friday, Sept. 28, from 2-3 p.m. at the large meeting room, Charles Beatley Library, 5005 Duke St., Alexandria.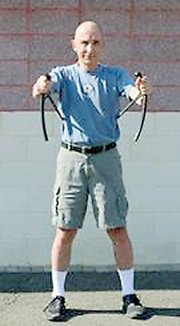 Robust walking is a low-intensity version of the exercises practiced by President Theodore Roosevelt on the White House grounds in the early 1900s. A robust walker inserts exercises into a walk using environmental objects, such as benches, walls, poles, and trees as props. Neighborhoods that at first appear inhospitable to exercise are soon seen as exercise-friendly.
Kulund also will lead a "train the trainer" program on Saturday, Sept. 29, from 9–11 a.m. at Cora Kelly Recreation Center, 25 West Reed Ave. and Commonwealth Ave. AHA! invites anyone interested in becoming a trainer and teaching others simple exercises through robust walking to maintain strength and balance, to attend. The training is free and open to the public. For more information, call Carol Downs at 703-519-0098.