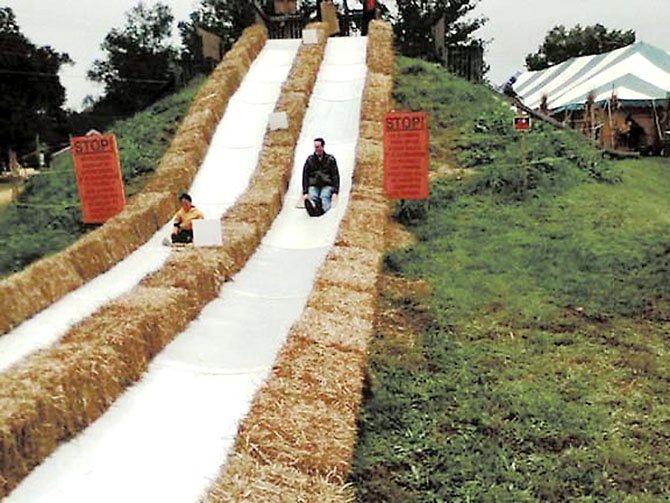 When Fred Dickinson, general manager of the Burke Nursery and Garden Center, started the pumpkin festival with his wife Cassandra 17 years ago, he said he had no idea it would grow to be such a large event.
In fact, the nursery didn't start to sell carving pumpkins until the last two weeks of October.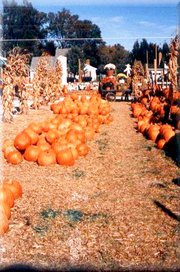 "People didn't buy all the Halloween pumpkins they do now. When we started this, we had our pumpkins and our pumpkin forts," Dickinson said. "We were giving hay rides in the field, just playing around, and our customers were very responsive to that, so we decided to turn it into a real old-fashioned fall festival. Kids have a ball."
The event, spread out over four acres, now features more than 1,500 pumpkins, several pumpkin forts, hayrides, a 90-foot burlap sack slide, two smaller slides, pumpkins crawls, a merry-go-round, farm animals, face-painting and a giant sand pile, where children can dig for coins and other treasures.
There is also a food tent with hamburgers, hot dogs, apple cider, popcorn and other goodies.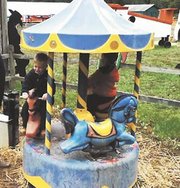 A popular feature is the festival's produce tent, where visitors can purchase homemade jams, jellies and pick out fall harvest fruits and vegetables.
Pumpkin Playground Details
Burke Nursery and Garden Centre hosts its 18th annual Fall Festival and Pumpkin Playground from Oct. 1 through Oct. 31 at 9401 Burke Road.
*Festival Hours: 9 a.m. to 8 p.m. Monday through Thursday; 9 a.m. to 9 p.m. Friday and Saturday and 9 a.m. to 8 p.m. on Sunday.

*Cost of admission on weekdays is $9 per person; weekend price is $12 per person. (Columbus Day will have the same activities as weekends, and the admission price will be $12.) Children under the age of two are admitted free. Each paid admission receives a small patch pumpkin and unlimited hay rides (wheel chair accessible). For more information, go to www.pumpkinplayground.com or call 703- 323-1188.