Whether you are an art aficionado, music lover, cinephile or nature enthusiast, there's something to enjoy at Lorton's Workhouse Arts Center this fall. Set on 55 acres of land in the former D.C. Workhouse and Reformatory, the Workhouse provides a home for more than 100 of the region's finest professional and emerging artists, classes and arts education programs for people of all ages and artistic abilities, cooperative studios, performance and theatre venues, dedicated gallery and exhibition space, and event facilities. For more information, visit www.WorkhouseArts.org or call 703-584-2900. The center is located at 9601 Ox Road in Lorton.
Workhouse Farmers Market
Thursdays, through Oct. 25, 3:30 to 7 p.m. in the Workhouse Quad.
Smart Markets, Inc. presents the Workhouse Farmers' Market, the newest arrival to the farmers' market scene in Northern Virginia, providing guaranteed producer-only markets for the region's discerning shoppers. Visit the Workhouse Farmers' Market every Thursday for locally grown fruits and vegetables, locally raised meats and poultry, and local foods from breads and cheeses to salsa and sausage.
Rock the Quad with The Sixth Generation!
CD Release Party. Saturday, Oct. 6, 8 p.m. Will-call, concessions and seating open at the concert at 7:15 p.m. in the Workhouse Quad. Tickets: $10 in advance; $15 at the door.
Join The Sixth Generation for a CD release party and concert at the Workhouse Arts Center. Formed in Michigan in 1966, The Sixth Generation is a Michigan Rock and Roll Legends Hall of Fame inductee whose specialty is playing hits from the 1960s as well as original songs about the era. Their crowd-pleasing performances bring back fond memories for baby boomers and give younger generations an appreciation of good music. The concert will be held outdoors in a large festival tent; seating is provided, but guests are welcome to bring their own lawn chairs and blankets. Cash bar and light fare available for purchase.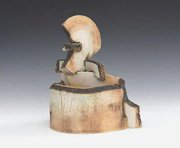 Robert and Gail Piepenburg—Ceramics
Wednesday, Sept. 26–Sunday, Oct. 21 in the McGuireWoods Gallery. Slide Lecture/Closing Reception on Friday, Oct.19, 7 to 9 p.m.; Workshop: Oct. 20-21, 10 a.m. to 4 p.m.
The Workhouse will present an exhibit of Gail and Robert's Raku and Smoke-fired Sculptures and Vessels, in conjunction with their Raku Workshop on Oct. 20-21. Robert Piepenburg has been a recipient of a National Endowment for the Arts Fellowship and several Michigan Council for the Arts Creative Artist Grants. His works are in many private and public collections, including the Smithsonian in Washington, D.C. His previous two books—"Treasures of the Creative Spirit" and "The Spirit of Ceramic Design"—won a total of five book awards in 2009. Gail's works appear in many of the contemporary books on ceramics, and her art works have won her many awards.
Washington Landscape Painters
Friday, Sept. 28–Sunday, Oct. 2 in the McGuireWoods Gallery. Public Opening Reception: Saturday, Sept. 29, 5 to 7 p.m.
The Washington Society of Landscape Painters (WSLP), presents "Eve of the Centennial," a "plein air" painting exhibition in the McGuireWoods Gallery. While temperatures hit the 100-degree mark this summer, area painters were donning hats and sunscreen and grabbing their outdoor easels in a quest to create paintings for their 100th birthday party celebration. The Nature Conservancy (NC) granted permission to the WSLP to capture on canvas conservation efforts taking place around D.C. and throughout Maryland and Virginia. The result is a body of work including plein air sketches and large studio paintings of some of the most environmentally significant areas in the region. Eve of the Centennial will feature both large and small oil, pastel and acrylic landscapes by WSLP members artists.
The Washington Society of Landscape Painters, once known as the Landscape Club of Washington, is one of the oldest active art organizations in the country.
2nd Saturday Art Walk
Saturday, Oct.13, 6 to 9 p.m., campus-wide. Free.
The 2nd Saturday Art Walk at the Workhouse showcases the diverse work of more than 100 visual artists in a unique historic venue, creating an atmosphere that encourages visitors to immerse themselves in the richness of this creative community. Guests can tour seven unique studio buildings, mix and mingle with artists, buy original works of art, experience ever-changing exhibitions and meet featured artists, all while enjoying light refreshments and music. The social atmosphere of the monthly art walk makes it the perfect destination for a date night or girls' night out, as well as for art collectors and art appreciation groups alike. These monthly events are also perfect for family art outings.
In the Vulcan Gallery, enjoy an exhibition reception introducing the new work of the Workhouse Associate Artists, and that of the group's featured artist of the month.
Dinner & a Movie Series at the Workhouse
"Plan 9 From Outer Space," Friday, Oct. 19, 7 p.m. in the W-3 Theater. Tickets: $50 per person.
Nothing makes a great night out like an interesting film and a wonderful dinner. While enjoying a film screening in the company of fellow cinephiles, you will be treated to a three-course dinner from a menu specially designed to complement the film's theme. Upgrade your experience by adding a wine-pairing option, available upon arrival. Seating will be assigned upon registration, smaller parties may share tables. (Menus will be available online after Sept.1, 2012. Note any food allergies when registering.) Directed by Edward D. Wood, Jr., "Plan 9 From Outer Space," is a classic 1950s sci-fi film featuring the requisite zombies, vampires and aliens. The film stars Gregory Walcott, Mona McKinnon and Bela Lugosi, of course.
Mobile Works
Featured Artist: Adam Jacono, Friday, Oct. 26–Sunday, Nov. 18. Public Opening Reception: Saturday, Nov. 17, 5 to 7 p.m. in the McGuireWoods Gallery. Free.
The art of mobile photography is rapidly growing, and becoming an acceptable photographic art form. Mobile Works will exhibit mobile or cell phone photography that has been taken with deliberate thought and intent behind it; such as a photographer would do in any traditional photographic method. Mobile Works will coincide with DC FOTO Week 2012. Jacono's artwork examines the relationship of advertising, consumerism and mass media to American culture. His artistic practice combines alternative and traditional photographic processes to reference history, in combination with digital photography, video, web, performance and printmaking.
Cool Cow Comedy Presents: Danny Rouhier
Friday, Oct. 26, 8 p.m. in the W-3 Theater. Tickets: $15 in advance, $20 at the door.
Danny Rouhier , a YouTube sensation and radio DJ from 106.7 The Fan's "Holden and Danny Show," will be performing during the Cool Cow Comedy show. Due to the mature nature of the material, all patrons must be 18 years old to attend the performance.
*Limited seating, advance reservations strongly recommended, as previous performances have sold out. Purchase tickets at http://www.coolcowcomedy.com/
VASA Storytelling Concert
Saturday, Oct. 27, 7 to 10 p.m. in the W-3 Theater. Tickets: $15 per person.
The Workhouse is partnering with Virginia Storytelling Alliance (VASA) for a full day of workshops for beginning and experienced storytelling artists. This special day will be concluded by a Storytelling Concert and an hour session of Open Mic. MC Gary Lloyd will lead storytellers Anthony Burcher, Ellouise Schoettler, and Margaret Chatham in an evening of storytelling magic. Stick around for refreshments and an Open Mic beginning at 8:45 p.m. led by Gary Lloyd.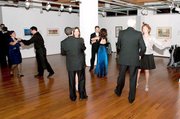 Date Night: Ballroom Social Dance
Saturday, Nov. 17, 7:30 to 10:30 p.m. in the McGuireWoods Gallery. Price: $5 per person for the mini lesson, $10 per person for the social dance.
An evening of ballroom dancing led by an instructor. Enjoy complimentary refreshments and a cash bar in the Workhouse Gallery. Dance lesson begins at 7:30 p.m. and open dancing will begin at 8 p.m. with food, dancing and fun until 10:30 p.m. Dress code is casual. All skill levels are welcome.
Date Night: Chef's Table 

Saturday, Nov.17, 8 to 10 p.m. in the Vulcan Gallery. Price: $80 per couple.
Bring someone special for an evening of cooking and fun. During this fun cooking course you'll work side-by-side with your date as the instructor teaches the easy yet impressive techniques behind a menu of dishes. Tuition is $80 per couple and includes food and non-alcoholic drink. A cash bar will be available.
*Reservations are required and must be made at least two days prior to event start date. We are unable to accommodate walk-up ticket registrations to this event. When registering, please list any food allergies on the billing page prior to check out under "additional comments." Come early and get into the Date Night mood with the ballroom mini-lessons, with a new style of dance being featured each month. November's mini-lesson will feature the ChaCha.
—Compiled by Victoria Ross