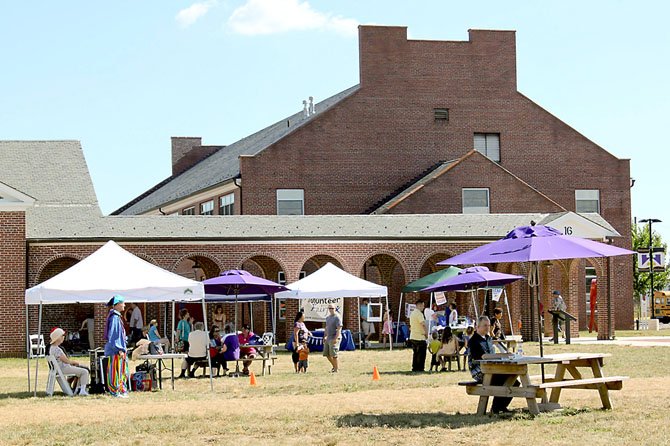 Photo Gallery
Workhouse Arts Center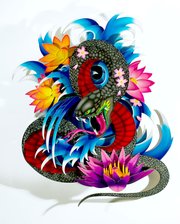 Click Photo for Flash
When and where
*Urban Decay 4, Workhouse Arts Center McGuireWoods Gallery, June 1-July 28
Opening reception Saturday, June 8, 6-11 p.m.; artist panel 5 p.m.
For the fourth year, the Workhouse, in collaboration with Urban Art Syndicate (UAS), presents an exhibition of artists from around the country who are part of the populist movement described as "low-brow urban art." The multi-media work is influenced by punk music, graphic novels, tattoo culture and street art, and is "seen by many in the art world as 'delinquent art' or 'deviant art,'" said Debra Yarrington, UAS curator. The reception event on June 8 will feature live graffiti in the Workhouse quad, tattooing in the exhibition space and live music from the local band Lightspeed Rescue and Thrive.
*Fireworks & Bluegrass, Workhouse Arts Center Quad, July 6, 7 p.m.
All summer long, the Workhouse will host a weekly free concert series each Saturday night, programmed by the Fairfax County Park Authority. Genres range from jazz and folk to tango and Celtic. Among the most noteworthy performances on the bill are the service ensembles, including the US Navy's "Commodores" (jazz) and Air Force's "Strolling Strings" ("light classics"). For the near-Fourth of July fireworks on July 6, the bluegrass group Frank Solivan and Dirty Kitchen provide a patriotic aural backdrop.
*Summer Art Party on the Quad, Workhouse Arts Center Quad, June 22, 11 a.m.-3 p.m. (Fitness walk at 9:30 a.m.)
A three-mile fitness walk into Occoquan Regional Park and back, led by the Workhouse Movement Director Lesley Spalding, sets up a day filled with a myriad of artistic and interactive activities. From a Chinese Brush Painting demonstration and "Art to Wear" fashion show by the Workhouse Fiber Artists, to a kite-making workshop and community pillow fight, there's a lot of party packed into one quad.
Since opening in 2008 as the Workhouse Arts Center, the staff within the stately red bricks of what was originally a Progressive Era prison has worked to develop the site as a central fixture of the Lorton community. To that end, the Workhouse campus supports a year-round bench of over 100 artists in six studio buildings, a Youth Arts Center, arts education program and theater, music, film and dance performances.
The regular programming of exhibitions and art walks every second Saturday evening of the month heats up this summer, with an impressive slate of special events including a multi-night run of "Fame: The Musical" (Aug. 23, 24, 25, 29 and 30) and "360 Degrees of Post-Traumatic Stress", an exhibition of work from veterans in therapeutic art programs at Walter Reed National Military Medical Center and Fort Belvoir Community Hospital (June 2 through August 16).
"IT'S A MUCH MORE ROBUST PROGRAM than in previous years," said Camela Speer, director of marketing for the Workhouse and Fairfax Station resident. Each summer, she said, they have been "tweaking it, trying to find something that will really interest the community."
When the Workhouse first opened its doors, there was an immediate and unforeseen need for arts education in the South County area. There was also no real "center" for Lorton as a whole. Now, education is one of the largest program focuses at the Workhouse—their themed summer camps for ages 6-15 include graphic design affiliated with George Mason University, visual arts, dance, theatre and music.
The challenge is tying everything together.
"We would like to see ourselves becoming a community center," continued Speer, "one that educates and involves the community in all forms of art. How do we present something where they can experience visuals, performances and arts education—which you don't necessarily find in one ball of wax, anywhere."
They aren't there yet, she admitted, but by continuing to program larger and more diverse activities, as well as partnering with other community organizations, the Workhouse is engaging more local residents than ever before. Joining forces with Fairfax County for the all-things-green SpringFest 2013 in April drew more than 3,000 people to campus in a single day.
They have similarly linked up with the Fairfax County Park Authority to host a summer-long "Mount Vernon Nights Concert Series" of free performances each Saturday night. The partnership should help boost exposure and bring more of the community together.
"Becoming a place for people to be," said Speer, "is key to our success."
FOR A COMPLETE LISTING of performances, exhibitions, events and camps, visit www.workhousearts.org.