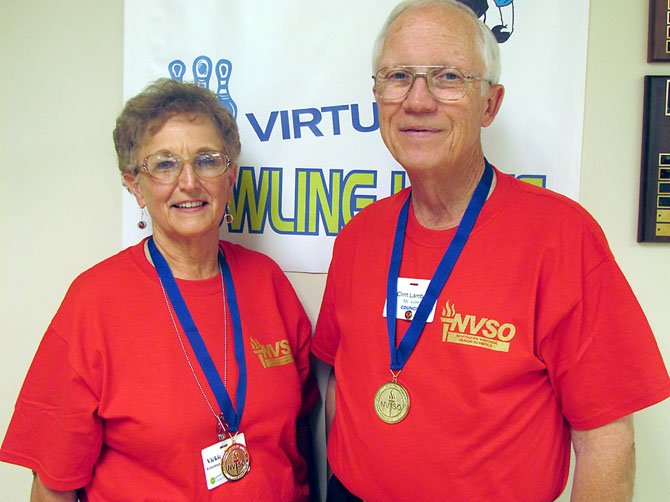 This year, 15 Greenspring residents competed in the Northern Virginia Senior Olympics (NVSO) Wii bowling competition. Greenspring, a Gold Sponsor for the NVSO, hosted the competition for the fourth consecutive year at the specially designed community alley featuring six virtual bowling lanes. Overall, over 60 seniors from across Northern Virginia participated in the 2012 NVSO Wii bowling competition at Greenspring.
The following Greenspring residents received 2012 NVSO Wii bowling medals:
*Women: Vickie Lambert—gold, 60-69 age group; Lillian Wachter—gold, 70-79; Joan Matteson—gold, 80-89; Helen Moot—silver, 80-89.
*Men: Clint Lambert—gold, 60-69, George Tateosian—gold, 80-89, Ted Campbell—silver, 80-89, Raymond Kaminski—silver, 90-99, Edward Solomon—bronze, 80-89, Robert Zikowitz—bronze, 90-99.
In 2011, resident Joan Matteson bowled the first 300 game in NVSO Wii bowling history; this year, she repeated the feat again and posted a new record score of 827.
"Joan is one of our superstars," said Greenspring resident and NVSO Wii bowling Event Director Ted Campbell. Husband and wife duo Clint and Vickie Lambert swept the gold medals in the 60-69 age group. Clint also broke an NVSO record this year, posting a score of 666. At Greenspring, almost 200 residents on 40 different teams compete with each other and other Erickson Living communities throughout the year.