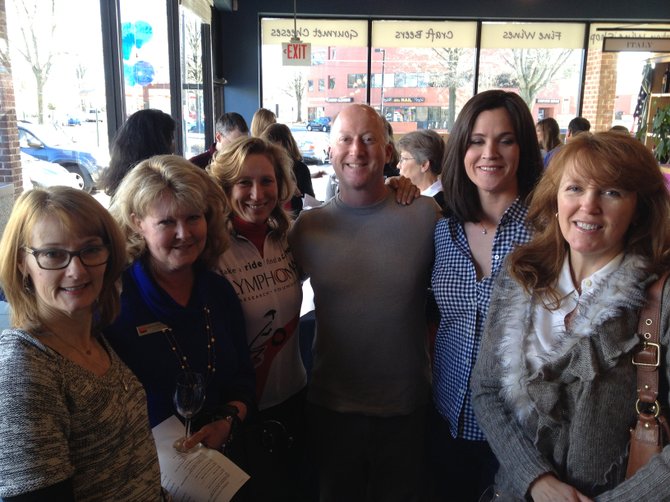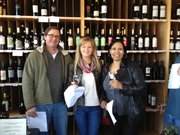 A team of 21 "Remission Riders" were at the Oakton Wine Shop to raise funds for the Seventh Annual Lymphoma Research Foundation Bike Ride on Saturday, March 9. The bike team and wine shop hosted lymphoma survivors and advocates as well as those wanting to relax and enjoy some wine.
Everyone who attended, however, benefited lymphoma research as Oakton Wine Shop donated a portion of event proceeds to the Remission Riders, who race in the Lymphoma Research Ride, slated for Sunday, Sept. 22, in Barnesville, Md. Last year's ride raised more than $500,000, with 300 riders cycling for a cure.
THE REMISSION RIDERS' team captain, Valerie Kappler, a 50-year-old mother of four, was diagnosed in November of 2008 with lymphoma. Because of recent lymphoma research, Kappler was able to participate in a clinical trial and is now in full remission.
"Our team does not have any corporate sponsors." said Kappler. "We raise every penny ourselves either through events or personal donations."
The founders of the Lymphoma Research Ride, Dr. Bruce Cheson and his wife Christine, were at the Oakton Wine Shop in support of the Remission Riders as well. The Chesons founded the research ride five years ago to increase lymphoma awareness and raise vital funds for cancer research. Since its inception, the Lymphoma Research Ride has raised nearly $3 million for lymphoma research. Cheson is also Kappler's oncologist.
"The Lymphoma Research Ride is such a wonderful experience—the celebration, the spirit, the support; it is so important to these riders to show the world that when they put their bottom on a bike seat, and ride many miles uphill, this is no more steeper a climb than the one they have undertaken in their fight against a potentially fatal disease," said Dr. Cheson, deputy chief of the division of Hematology-Oncology and Head of Hematology at Georgetown University Hospital as well as chair of the Lymphoma Research Foundation Scientific Advisory Board.
"The support is overwhelming," says Mary Heppner, a Remission Riders team member. "It's amazing how many people are associated with someone who is touched by this disease and want so much to help find a cure." 
Remission Riders member Suzanne Zolldan rides and fundraises for her husband John, who was diagnosed 22 years ago. Annual check-ups continue to show that he remains in remission. Other team members have also had family members and friends stricken with this disease.
The number of lymphoma patients has nearly doubled in the past years, and is striking much younger people. In 2013, there are more than 600,000 people living with lymphoma or who are in remission. It is estimated that more than 74,000 new cases will be diagnosed this year as well. The numbers for this disease are growing.
Bryan Gauthier, owner of Oakton Wine Shop, said, "I am very humbled by the support the community showed today. I am also pleased with all of the selections people were making as the wines were all truly some of our favorite selections and the community agreed. I cannot wait for our next event."
Team captain Kappler is on the lookout for additional riders to join the Remission Riders for the September fundraising bike ride. "We have a pasta and helmet decorating party the night before and then head up to Barnesville together. It's such a rewarding and wonderful experience."
THE LYMPHOMA RESEARCH RIDE is a non-competitive bike ride where survivors, families, friends, individuals, community teams and corporate teams ride in honor and in memory of those whose lives have been touched by lymphoma. Participants can choose to ride either a 25 or 50 mile route. 
Donations to the Remission Riders are being accepted until November. Go to "http://lymphoma.org/ride2013/remissionriders" to donate.