Potomac River Running Store of Reston received a championship plaque for a third consecutive year from the Marine Corps Marathon (MCM) Race Director Rick Nealis on Thursday, March 21.
This annual award is presented to the DC area running store with the fastest combined team time during the October running of the MCM. Team scores are calculated by combining the individual chip times of the top three finishers, including at least one male and one female.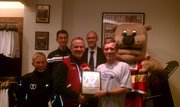 Potomac River Running of Reston finished with a combined time of 8:24:37, garnering a definitive win for the team. Pacers Running Store Team 1 came in second with a time of 10:03:27 and the team from Potomac River Running of Leesburg, Va., finished in third place with a time of 10:07:58.
Runners contributing to Potomac River Running Store of Reston's success were Hugh Toland (2:39:50), who also placed 21st overall in the men's field; Perry Shoemaker (2:52:22) who placed fourth in the MCM women's field; and Aaron Church (2:52:25) who ranked 65th among male finishers.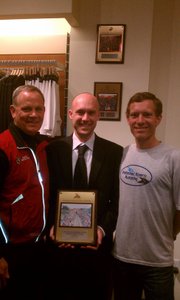 Toland was amazed by such a decisive victory. "Wow, I didn't realize the gap was that large. We had a great team this year. Perry was the key to our win. She had an incredible day."
Selection for the team began in June, according to team coordinator Ecris Williams. "I sent out a mass email and put out the qualifications on Facebook," she said. "There were 89 people on the list. From that, we were able to create a few teams this year."
"The MCM has a mission statement that includes promoting community goodwill, and that's just what we're doing here tonight," said Nealis. "These running stores embody the core of our sport and continue to provide support to runners of all experience levels."
For media information about the Running Store Team Competition, contact Sandra Osborn-Peters, MCM communications coordinator at 703-784-2357 or sandra.osbornpeters@usmc.mil.
The 38th Marine Core Marathon is set for Sunday, Oct. 27, of this year in Arlington. It has been voted the "Best Marathon for Families" and the "Best Marathon in the Mid Atlantic," as well as the largest marathon not to offer prize money, earning the name "The People's Marathon." No federal or Marine Corps endorsement is implied.