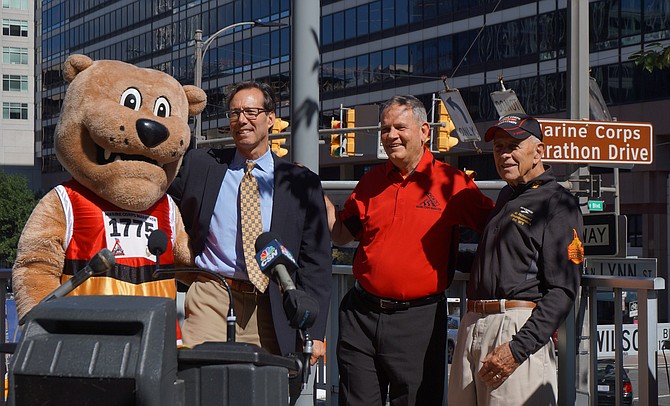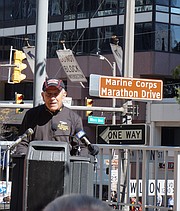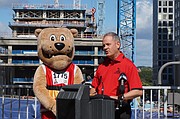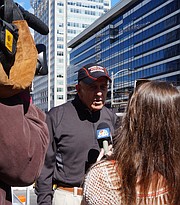 It is known as "The People's Marathon" and 40 years ago, Arlington resident Al Richmond was one of 2,655 people lining up to participate in the first Marine Corps Marathon. Today, he is one of only two "groundpounders" — a runner who has completed every MCM over the past 39 years — and he was on hand Oct. 7 for the unveiling of Marine Corps Marathon Drive in Rosslyn.
""This is where I ran my first marathon," said Richmond, a 76-year-old retired Marine colonel. "I have run all over the country but this race is still the best operated and most fun. It is truly a premier race."
In honor of the race, Arlington County dedicated a block in the heart of Rosslyn as Marine Corps Marathon Drive. The official MCM street sign will be hung each October at 1200 Wilson Blvd. near the corner of Wilson and N. Lynn Street to celebrate the race.
"The partnership between Arlington and the Marine Corps Marathon has lasted a long time," said Arlington County board member Jay Fisette, who noted the efforts of Rosslyn Business Improvement District president Mary-Claire Burick in promoting the event in recent years. "The race and finish festival have helped reshape Rosslyn."
On July 21, the Arlington County Board voted on a resolution to post the Marine Corps Marathon Drive street sign every October "to inspire and motivate the thousands who will converge on Arlington." MCM runners will cross Marine Corps Marathon Drive on Mile 1 of the 26.2 mile course and then return to the street as part of the MCM Finish Festival.
"Arlington County means so much to us," said MCM race director Rick Nealis. "I hope this partnership continues another 40 years. This is home."
Richmond will be on hand again Oct. 25 to run in the MCM 40th anniversary race.
"I was never a big runner," said Richmond, who lives in the Arlington home his grandmother built in 1915. "I did what I needed to do to keep in shape for my physical fitness tests. I decided to run the marathon just to support the race and got hooked."
The upcoming MCM will be Richmond's 50th marathon. He has run Boston, New York and "more 10k's than I can remember." His best time was 3:00.50 in 1982.
"I've been very fortunate," said Richmond, who will join more than 30,000 other runners from around the world for this year's race. "I played 10 years of organized football, done many 150-mile bike rides and am now looking at my 50th marathon and I have never had a major injury. So as long as I am able, I will be back here for the Marine Corps Marathon. It is a great race."
For more information, visit www.marinemarathon.com.