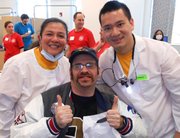 Several hundred low income and uninsured residents of Arlington, Alexandria and Fairfax County received free dental care recently when the Northern Virginia Dental Society (NVDS) hosted its 10th Annual Mission of Mercy (MOM) project.
During the two-day event, which was held at Northern Virginia Community College's Medical Education Campus in Springfield, area dental care professionals donated their time and expertise to help those in need.
"It really is an incredible initiative and I truly believe in the work that the Northern Virginia Dental Society does. There were so many volunteers especially dentists helping hundreds and hundreds of patients. This was my second year helping out," said Jenny Del Carpio, of Molina Healthcare, one of the event's sponsors.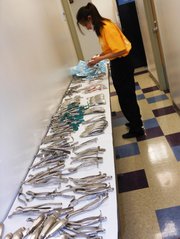 A total of 844 low-income and uninsured received dental care. "The MOM Project … was a wonderful event," emailed Cathy Griffanti, executive director, Northern Virginia Dental Society. "Many of the area legislators stopped by the Project and witnessed the dedication of the oral health care providers in Northern Virginia and what we do to give back to the community."
Griffanti said that patients were pre-screened and pre-registered for the MOM Project through local social service agencies, and estimated that the value of services provided was approximately $355,000.