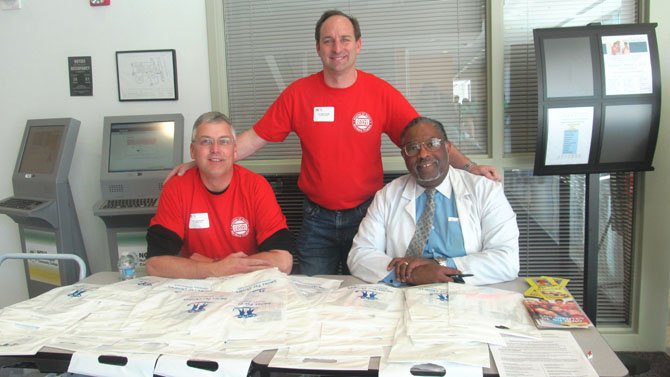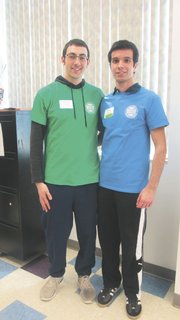 The triage center at Saturday's Mission of Mercy Dental health clinic resembled a modern-day MASH unit. Dentists and volunteers in color-coded t-shirts dodged carts filled with sterilized instruments, greeted hundreds of patients and funneled them through initial screenings to determine what services they needed.
"Do you speak English?" asked one of the volunteers when she spotted an older woman wearing a faded black burqa, the traditional Muslim veil. The woman, whose native language was Farsi, spoke English haltingly.
"She's in luck. We have a volunteer who speaks Farsi," said Dr. Peter Cocolis, a Springfield dentist. "In fact, we have volunteers who speak French, Spanish, Korean, Urdu, you name it…"
Cocolis served as chair of this year's ninth annual Mission of Mercy (MOM) Dental Health Fair held Friday and Saturday, March 9 and 10, at the Northern Virginia Community College Medical Campus in Springfield.
"We are providing basically any procedure that patients need, from cleanings to extractions and restorative work," Cocolis said.


HE ESTIMATED that this year's clinic delivered about $250,000 worth of dental services to nearly 900 patients from five counties who qualify as living below the poverty line. The clinic has limited spots for walk-in patients. "I bet if we could add another day to this, we could see another 300 or 400 patients. Sometimes, this is the only time they receive dental services."
U.S. Rep. Gerry Connolly (D-11) attended Saturday's clinic, chatting with patients and touring the extensive, state-of-the-art facilities. Connolly, who collaborated with MOM when he was chair of the Fairfax County Board of Supervisors, said one of the aspects of the clinic is the partnership with public sector and non-profit community to help those in need.
"As chairman of Fairfax County, it was our priority to build partnerships like this," Connolly said. "This is really an amazing operation. Hundreds of local dentists and students volunteer their time, providing these critical services to the underserved in our community."
Cocolis said in addition to providing a wide range of dental services, oral hygiene education was a top priority.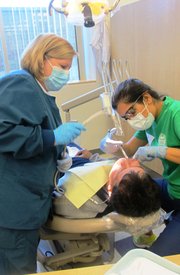 "In our county, only half of the population has dental insurance, and of those people, only half actually see a dentist," Cocolis said, noting that every patient received an education packet that included information in English and Spanish on local services and the link between poor oral hygiene and serious medical conditions, such as heart disease, cancer and pneumonia.
Dr. Thomas Wilson, executive director of the Northern Virginia Dental Clinic in Falls Church and one of the event's organizers, said that Virginia was one of a handful of states in which oral health care is not a mandated service under Medicare.
"Education is key. Many times, patients don't see the link, but, put it this way, the mouth is the portal to the body. If the mouth isn't well, neither is the body," Wilson said.
"This event is so important, because we are serving an underserved population," said Dr. Howard Kelley of Vienna, chief dentist of NoVa's Medical Education Campus. "It can be overwhelming to realize how great the need for dental treatment is, not only abroad but right here. Dental problems are not self-healing. Here, we have an opportunity once a year to reach out to people."


IN ADDITION to the Saturday's event, MOM projects have been held in Wise, Va., two projects on the Eastern Shore and one in Annandale. For each MOM project, there are hundreds of volunteers who participate. To date, 5,365 patients have been provided with over $1.8 million worth of free dental care. Virginia's MOM projects have broken records for the largest two and three day dental outreach clinics ever conducted in the United States.