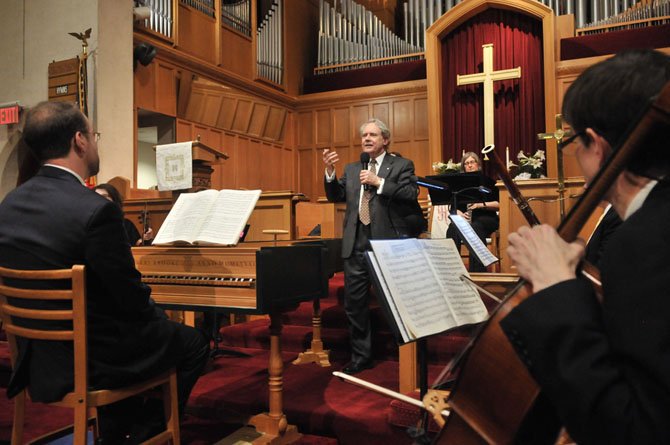 Photo Gallery
41st Annual 'Messiah' Sing-Along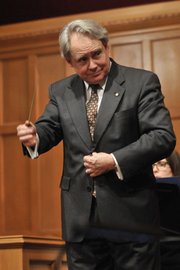 Click Photo for Flash
Arlington — The church quietly filled with people as Dennis Edelbrock, Chuck Seipp and Paul Skevington performed a pre-concert recital on Sunday evening, March 31, at the Clarendon United Methodist Church in Lyons Village. Edelbrock noted the 259-page score of "The Messiah" was composed and written by Handel in 24 days in the late summer of 1741. The first performance of the work was in Dublin April 13, 1742. Seven hundred people attended. To conserve space, women were asked not to wear hoops in their skirts and men not to wear their swords.
Dr. J. Reilly Lewis started the tradition of the sing-along when he joined the church as the organist and choirmaster in 1971. Performing on Sunday evening were soloists Jaely Chamberlain (soprano), Linda Maguire (mezzo-soprano), Joshua Baumgardner (tenor) and Robert Harrelson (baritone). The orchestra included: Violin I –Pam Lassell, Laura Chang, Bill Tortolano and Anna Luce; Violin II – Jennifer Wade, Shelley Matthews and Ivan Hodge; Viola – Greg Luce and Marry Ann Tortolano; Cello- Marion Baker and Kristen Gilbert; Bass – Michael Rittling; Oboe – Janna Ryon and Laurie Loomis; Bassoon – Doug Kehlenbrink; Trumpet – Dennis Edelbrock and Chuck Seipp; Tympani – Joseph Tortolano; Harpsichord – Paul Skevington and Organ – Todd Fickley.
"The Messiah" Sing-Along (Part One) will take place on Dec. 1, at 7:30 p.m.