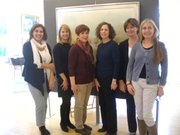 This month the Art Gallery of Potomac presents the exhibit "Color, Light, Drama." The show will feature paintings by Martha Spak and five of her students. They met at the Yellow Barn Studio in Glen Echo, in Spak's still life painting class. Spak shares that
"Our exhibition is a collection of paintings that is varied and often delightfully unpredictable," Spak said. "It represents accomplishments from painting together and revealing the individual talents across common concepts and art strategies. Each artist created art using the powerful effects of color by catching the light and giving a simple subject dramatic interpretation."
The show will run April 3-28. An opening reception will be on April 12 from 6-8 p.m. with live music and refreshments. There will be an afternoon painting demonstration and discussion on April 14.
The Art Gallery of Potomac is located at 9945 Falls Road. It has relocated within the same shopping center and is now next to Big Wheels Bikes behind Walgreens. Phone is 301-765-7617. Gallery hours are Wednesday through Sunday, noon until 4 p.m. For more information go to www.potomacartists.org. or www.theartgalleryofpotomac.com
Upcoming events: Spak is also now a resident artist at the Torpedo Factory Art Center in Alexandria, Va. She will have a studio there in June and July where she will paint. The studio will be open to the public.
More like this story