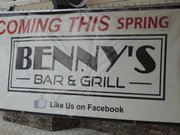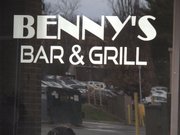 Potomac entrepreneur Benson Fischer will soon be revealing a new concept in dining and entertainment to open this spring in the Cabin John Shopping Center.
Benny's Bar and Grill, debuting in the former Popeye's location, has been remodeled, expanded and retrofitted into a 240-seat restaurant. Fischer has designed the eatery, resplendent with comfortable leather booths, stonework, retro tin ceilings, open-air seating and a two-sided bar with the latest in mixology machines. A menu will feature made-to-order salads, rotisserie chickens, pizza, burgers, charbroiled meats and desserts. Fischer is also planning to offer live entertainment.
Fischer in no stranger to the restaurant business — or to other types of entrepreneurial activities including dozens of businesses, joint ventures, franchises, acquisitions and other investment opportunities. In 1975, he founded the Yummy Yogurt frozen yogurt chain with his two brothers. This grew into 12 large full-scale fast food restaurants. After they sold Yummy Yogurt, he constructed and operated different restaurants including Buffalo Bills, Café 75, Bensoni's Italian Kitchen, Bagel Boy, and Montana's Steak Houses. He also purchased Gifford's Ice Cream Company and sold the rights to the current operators.
Next he founded a real estate and business brokerage firm, The Fischer Organization Inc. While operating the real estate brokerage firm, he also created a novelty beer product, Redneck Premium Beer. Over the course of one year, they sold millions of bottles of Redneck Beer. Next, he purchased Papa John's Pizza franchise in 1998 and was responsible for building the franchise into one of the most profitable in the Papa John's system. In 2001, he and his 76-year-old father purchased the assets of Montgomery Donut Company, changed the name to Montgomery Distributors and now supply companies such as the east coast Starbuck's with baked goods.
But now, Fischer is thrilled with his latest venture — and looking forward to completing construction and getting the restaurant opened: "Everything will be made from scratch, from breads to desserts. We will be offering good value for our food. Our portions will be generous and everything will be made with the best ingredients."
He continues with some of the menu items: "We will have original sandwiches such as the 'Schlepper' (pastrami, grilled with onions and pickles topped with slaw and 1000 Island dressing), 'The Sandwich from Hell' (grilled capicola ham, onions, bell peppers, jalapenos, banana peppers, pepper jack cheese and spicy chipotle dressing on a club roll), 'create your own salads' with lots of different ingredients, prime rib, lobster, Fireman's chili, trout, meatloaf, hot fudge cake, Montgomery donuts, frozen custard and yogurt — and 'the best drink in town.' Many of the menu items come from my past restaurants."
Andrew LaPorta is the executive chef. He is at the restaurant day and night, making certain that the kitchen will be ready for the opening. "We will be hiring 50-60 employees to staff the restaurant," he said. "I am working with the purveyors to be certain we order fresh ingredients. We will be buying in bulk and primal meat cutting — and passing the value on to the customer."
Fischer explains that the bar will have seven television sets for watching sports and he will bring in live jazz and other types of "easy-listening" music. "I also will try out some new venues — maybe a comedian or even an 'open-mike' night. We can also host private parties here by closing off one of the dining areas."
Benny's Bar and Grill will be open from 11 a.m. for lunch and dinner and stay open until 2 a.m. on the weekends. In the future, they plan to add breakfast service. Look for their opening announcement on Facebook or call 301-299-3377. They are located in the Cabin John Mall at 7747 Tuckerman Lane, Potomac.