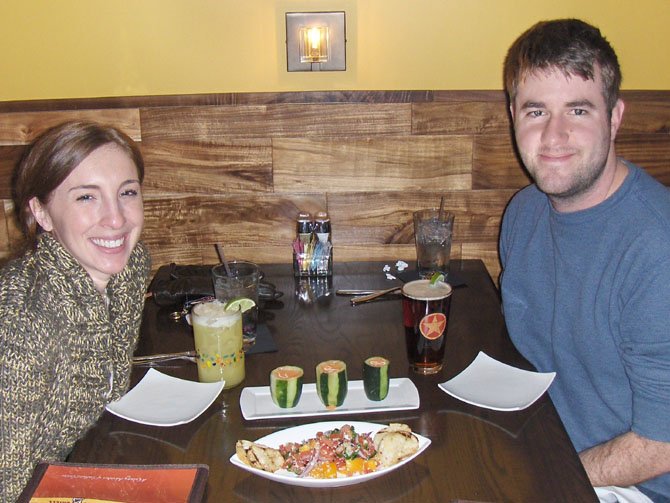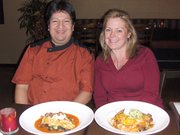 Centreville — Featuring a fusion of southwestern and Bolivian cuisine, Coyote Grille is Centreville's newest restaurant. Area residents may already be familiar with its Fairfax location, but they may now dine there at 14101 St. Germain Drive in the Centrewood Plaza shopping center.
"These are our only two restaurants in Northern Virginia," said owner Tatjana Farr. "We chose Centreville because it's the epicenter between several, major communities and is easily accessed from I-66 and Routes 28 and 29."
Besides that, she said, "It's a continually growing and community-minded area, and we do school sponsorships and fundraisers. We raised over $1,000 for a local teacher's family through a Social Change event here and hosted a fundraiser for Union Mill Elementary."
Proud of Coyote Grille's food, executive chef Juan Balderrama — who hails from Bolivia and has been with the restaurant 11 years — said there's "nothing like this genre in the neighborhood." He also enjoys meshing Bolivian spices such as cumin, with hot peppers, jalapenos and other southwestern ingredients.
"We use a lot of corn in South America, so I added that to some items," he said. "I create my own recipes using my experience in cooking, plus my familiarity with dishes from my country."
Balderrama said he uses fresh ingredients and 95 percent of the menu items are homemade from scratch. In addition, 90 percent are gluten-free and no peanuts are used.
The extensive menu includes soups, salads, tapas, appetizers, wraps, fajitas, chimichangas, enchiladas, tacos, burritos, a variety of entrees, plus beverages, desserts and children's items. There's also an assortment of tequila and Margarita drinks, as well as beer and wine.
Entrees range from $9-$16, and Balderrama especially likes the Carne Asada; it's skirt steak in a 37-spice marinade he makes, himself, and comes with red rice, refried beans, flour tortillas and a side salad for $13.95. Another favorite is the Southwest Pasta made with shredded chicken, chorizo, peppers, onions, corn, mushrooms and penne pasta with red-pepper cream sauce, scallions and cotija cheese.
His favorite tapas are the Southwest Egg Rolls — a flour tortilla stuffed with chicken, corn, black beans and peppers and served with avocado salsa — for $5.95. He also likes the Shrimp Ceviche of marinated shrimp, diced red onions, tomatoes, jalapenos, cilantro and mango in fresh lime juice with avocado.
Farr noted two of the most popular salads. The Pueblo Pecan Chicken Salad for $10.25 features pecan-crusted chicken over mixed greens, tomatoes, mandarin oranges and dried cranberries with honey-dijon dressing and blue-cheese crumbles. And the Cilantro Pesto Chicken Spinach Salad for $10.95 comes with baby spinach tossed in champagne vinaigrette with goat cheese, dried cranberries, green apples, sweet potatoes and cherry tomatoes, topped with cilantro-pesto chicken.
"The Roasted Red Pepper Soup is one of our number-one sellers," said Farr. "People also love our pork chop with chipotle bourbon sauce over garlic mashed potatoes. And our Chile Relleno is starting to sell out here." It's a poblano pepper stuffed with chicken, rice and vegetables and topped with Ranchera sauce, sour cream, pico de gallo and melted cheese.
She said the cheese enchiladas and vegetable burritos are also popular with vegetarians. As for the desserts, said Farr, "They're all homemade. The Tres Leches Cake is phenomenal and the Key Lime Pie is delicious."
Coyote Grille opens at 11 a.m. daily; Sunday-Thursday, it closes at 10 p.m.; Friday-Saturday, midnight. There's a wait on weekends, starting at 6 p.m., but people may phone ahead (703-815-0006) or use www.opentable.com to get on a list.
Sunday brunch is served from 11 a.m.-2 p.m. and, said Farr, "We've been getting a really good turnout. Everything's made to order fresh. People order off the brunch menu; the average item is $8." The biggest sellers, she said, are the Southwest Steak and Eggs and the Eggs Benedict with chipotle hollandaise, queso fresco and poached eggs. Some brunch items are also available Saturdays from 11 a.m.-2 p.m.
Farr said many customers are coming a couple times a week "because of the food and because it's so reasonable. There's a family atmosphere, but it's also nice for dates." There's also a private dining room that seats 40, has a flat-screen TV for corporate presentations and can be closed off.
The restaurant seats about 160, but will grow to 200 in May when Coyote Grille's heated, covered, four-season patio is open for business. "We also do catering for up to 500 people within a week's notice," said Farr. She describes the restaurant's interior as "modern rustic," with punched tin accents, burnt-orange and warm-brown colors, walnut tables and booths, plus a mural featuring a southwestern scene.
There's also a 25-seat, zinc-topped bar. Happy hour is Monday-Thursday, 3-7 p.m.; and Friday, 3-6 p.m, with half-priced appetizers.
On a recent evening, Jenelle Whittaker of Fairfax was enjoying the Southwest Caprese Tapas made with heirloom tomatoes, queso fresco and champagne vinaigrette. "It's very fresh and you can taste all the seasonings and spices, without it being too spicy," she said. Whittaker also liked the Gazpacho Shots — gazpacho soup in cucumber "shot glasses" — and appreciated all the vegetarian offerings.
Meanwhile, former Centreville residents Carole Bedell and Tina Marie Melella, and Clifton Townes resident Barbara Brown, were dining together. Brown is their friend and babysitter and they were celebrating her birthday.
Bedell said the restaurant was pretty and she loved the cheese and red sauce on her Chicken Chimichangas. Brown also liked the food and atmosphere, saying, "It's a good place for a nice meal. I had the Steak Chimichangas and it had a good flavor."
Melella had the cheese enchiladas and liked "the glorious, melted cheese. The restaurant has a casually upscale environment with good food, and I like having an option between refried and black beans."
Comments like these make Farr happy. "I'm doing this because I love people and food," she said. "We have fresh, unique recipes for a great value, and our customers come back because of our consistent service, ambience and food quality."