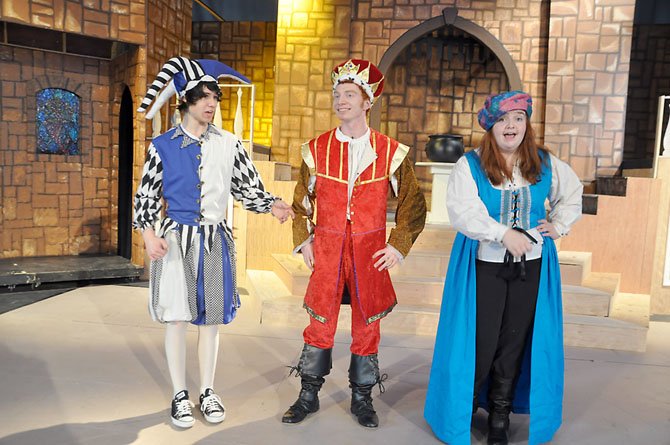 Colorful costumes, an elaborate set, songs, dances and a classic musical comedy—they're all part of Paul VI's upcoming production of "Once Upon a Mattress."
The curtain rises Friday-Saturday, April 12-13, at 7:30 p.m., and Sunday, April 14, at 2 p.m. Tickets are $10 for students and senior citizens and $15 for adults at the door and online at paulvi.net or pviproducers@yahoo.com.
"It's the story of 'The Princess and the Pea,'" said Director Katherine Miller. "The queen says no one in the kingdom can get married until her son does. But he has to marry a bona fide, certified princess. So the queen devises impossible tests no one can pass."
The show features a cast and crew of 60, including a live orchestra of both students and professionals. The conductor is Naj Qureshi, and his wife Erin is the vocal director. Kathy d'Alelio is the choreographer.
"It's a familiar fairytale with a talented cast," said Miller. "The audience knows that goodness and happiness will prevail, and there'll be a whole lot of laughs along the way. It's a family show all ages will enjoy."
PORTRAYING PRINCESS Winnifred is Abby Rozmajzl and, although she's a freshman, Miller said she definitely deserves the role. "There was no question Abby was the princess when I heard her voice," said Miller. "She blew us away with her singing; and every time she performs, she's better."
Describing her character as "a mess," Rozmajzl said Winnifred lives in the swamps. "She's strong, energetic, tomboyish and very pretty," said Rozmajzl. "But even though she's rough on the outside, she still has a kindness and sympathy for people. And when she arrives at the castle to meet the prince, she's so excited that she swims a moat, instead of waiting for the drawbridge, and gets all wet."
Thrilled to be in her first production at PVI, Rozmajzl said it's "a blast" playing Winnifred because, "we both have that same enthusiastic spark, and she has some fabulous lines." Her favorite song is her opening number, "Shy," because she really gets to belt it out. She said the audience will love the show's music, comedy, sets and costumes. "The costumes are beautiful and elaborate and so many different colors," said Rozmajzl. "I really feel like a princess in mine."
Senior Kristen Washington plays the queen. "She's the classic, wicked Disney villain," said Washington. "And she's an overbearing, in-your-face mother. She's overprotective of her son, Prince Dauntless, and doesn't want him to leave her side. She totally wears the pants in the castle."
And Washington's having fun bringing out that evil side. "I'll be happy if everyone in the audience hates my guts," she said. "I get to dominate the stage. It's such a great part; all the other characters are scared of the queen." She especially likes singing "Sensitivity," in which the queen decides how to test the princess.
She said the characters' big motions and musical numbers will appeal to the audience. "They'll feel the characters' emotions," said Washington. "And the 'Spanish Panic' dance number is really intense."
PORTRAYING PRINCE Dauntless is senior Alex Siegal. "He's dopey, but a kind and nice guy who's easy to please," said Siegal. "I'm enjoying it because we're both fun-loving. It's exciting to have a lead role, and I get to put my own personality into it. I also sing some good songs, 'Song of Love (Fred)' and 'Man-to-Man Talk.'"
Overall, he said the audience will like the "extravagant set and bright and elaborate costumes. And they'll enjoy following the story with all its funny lines."
Junior Brendan McAlevy plays the king. "He likes goofing around, eating and chasing girls," said McAlevy. "He doesn't speak because a witch cursed him, so he does everything through charades. He's a trio with the minstrel and jester and they're his translators. It's a challenge—I really have to emote and be distinct with my actions and body movements."
He said the audience will enjoy seeing each character's personality and how they interact with and play off each other. In addition, said McAlevy, "The period costumes are fantastic and the set design is really creative."
The multi-level set features several rooms inside the castle, including the great hall, a corridor and eight staircases, plus a courtyard. "And our set pieces are really cool," said McAlevy. "There's a giant bed with 20 mattresses, a big birdcage and giant thrones. The audience will love it."