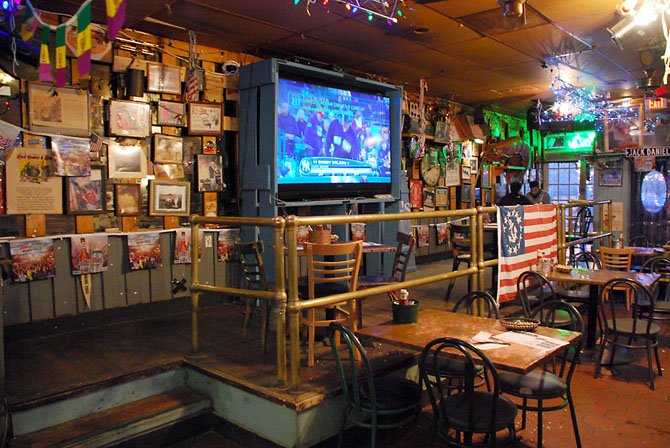 "We were just jamming, and swore we wouldn't do gigs," said Pete Laiti (53), guitarist and singer for the group Waiting Man. "But if we ever did, it would be for charity." This Saturday Waiting Man, together with Laiti's son Patrick, 27, look to pack the house at Fat Tuesday's Mardi Gras-themed bar and restaurant in Fairfax.
Though their collaborative efforts have benefited several different charities, the proceeds from this show will be split between the Avon Breast Cancer Crusade and Susan G Komen Foundation.
Singer-songwriter Emily Toler opens the evening, advertised as "Drink for Pink." Toler's mother was a breast cancer victim; her story inspired the charity event.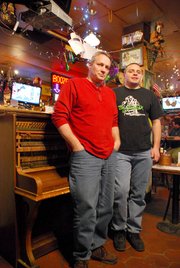 THE BLUES ROCK-BASED JAM BAND Waiting Man has been playing together for seven years, but broke the no-gig streak last year to raise money for the family of Robinson softball coach Barry Gorodnick. Gorodnick had suffered from non-Hodgkin lymphoma and passed away at just 47 years old.
Patrick, a rap artist (performing as "Treece") and founder of the hip-hop project House of Syntax, first hatched the idea to perform a benefit concert for the Gorodnick family. After a few past attempts at joining forces with Waiting Man, this seemed like perfect timing to link up.
"Knowing that there would be an older crowd," said Patrick, "having a live band got brought into the mix was a good idea." Patrick performed keyboards on Waiting Man's originals, Allman Brothers and Jimi Hendrix covers, and the band played live versions of Patrick's backing tracks.
It's awesome, to be honest, playing live rather than with just a DJ," said Patrick. "I've been around my dad as a guitarist my whole life, and watching what he's done inspired me to get into music."
TREMENDOUS AUDIENCE SUPPORT and feedback from the first concert in August 2012 inspired the group to perform again, and again, picking a different charity each time. From several performances at Kilroys restaurant in Springfield and Fat Tuesday's in Fairfax—each bringing 150 to 200 people—they've raised roughly $6,000.
"Audiences have been very kind to us," said Patrick, who works as a loan accountant and lives in Fairfax. "It's been a really good run," added Pete, a Fairfax Station resident and owner of Air Cleaning Technologies.
Pete described the hybrid result of their talents as "a hip-hop, blues, rock, jamming multi-generational thing. It's definitely got chemistry."
That chemistry typically brings together their respective fan-bases—those between 40 and 50, and in their late 20s—for one big party. Look for Laiti, wife, and mother Lisa to spark things on the dance floor, embodying the spirit that while the disease itself is nothing to smile about, you can still celebrate working to deliver a more positive outlook.
Emily Toler opens for Waiting Man with Treece at Fat Tuesday's, located at University Mall in Fairfax Saturday, April 6; doors open at 7 p.m., and the show starts at 8 p.m.; $5 cover (www.fatsfairfax.com).