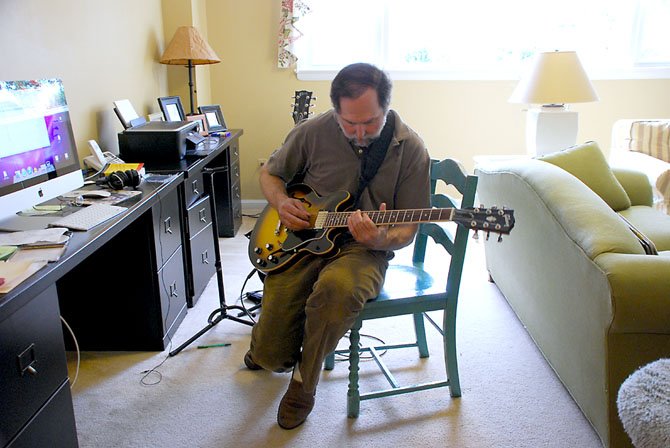 According to the Parkinson's Disease Foundation, there are about 1 million Americans currently living with the disease, with 60,000 new cases being diagnosed each year. Not all of them can say they've turned their condition into a creative, charitable endeavor.
Ken Fauteux and his original rock and roll album, "KFO: Lake Peace," have already raised $1,700 in donations for the Michael J. Fox Foundation.
Fauteux was a successful orthodontist for 23 years before receiving his diagnosis of a milder form of Parkinson's disease 13 years ago. Just 46 at the time, he was younger than the average diagnosis age. At first he noticed a significant weakening in his left arm; it wasn't long before a visit to the neurologist confirmed the presence of other telltale symptoms.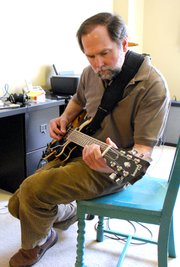 "It was a blow at first," said Fauteux. "We all think we're perfect, perfect in a sense of nothing bad is going to happen to us. Maybe to somebody else, but not us."
Fortunately, Fauteux's case was not believed to be an extreme one. Just a few years after first being diagnosed, however, his doctor and lawyer recommended he retire from practicing orthodontics. His loss of motor control—though not severe—had become a liability in a profession he loved.
"You got to know the patients," said Fauteux. "It was a really good job to have. What I miss the most is seeing them grow, and when they get their braces off, they hug me, they hug their mom—that's what it's all about. Many dental specialties don't get that kind of reward for treating someone."
But Fauteux's new life was "not all bad," he said. "Little things just don't bother me anymore. On the road if I get cut off, I just say, 'Have a nice day.' You realize what's really important."
IMMEDIATELY AFTER being diagnosed, Fauteux noticed another change: new music suddenly started surging through his brain. As an amateur musician, he had studied theory and composition for two years in college, and played violin, piano and guitar. But he hadn't strummed a chord in decades.
Inspired by his life's turn of events, Fauteux rediscovered a past love of rock and roll music. Out came the Gibson electric, and the tunes in his head quickly emerged as complex yet catchy, guitar-led songs. "When I got Parkinson's," he said, "I realized I really enjoyed playing what I used to do—I'm having more fun."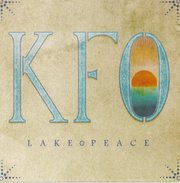 The reinvigorated artist teamed up with a neighbor of his lake house on Leesville Lake, nearby Roanoke, and together with a few additional contributors, crafted an 18-track album over the course of a year and a half. "KFO: Lake Peace" is comprised of relatively short, yet lively pieces ranging in stylistic influence from the Grateful Dead and the Ventures to Bach and the Beach Boys.
It seemed logical that this effort could be put to good use. "I started thinking about a fundraiser, some creative way I could get some money for research," said Fauteux. So he began offering the CD as a thank you to friends and family for their donations.
"I used WETA's model," he explained. "They offer something, a collection of songs, and in turn, you give them a donation. I hope my CD is worthy of that kind of thing. I guess time will tell."
In the meantime, Fauteux is working on new songs for a follow-up album, continuing his hobby of handcrafting violins... and looking for a drummer who lives closer to Fairfax.
CHECK OUT some of Ken's music by typing "Ken Fauteux" into a YouTube search. To contact him about drumming auditions, request a CD and/or make a donation, he can be reached by email at kfo1998@gmail.com.