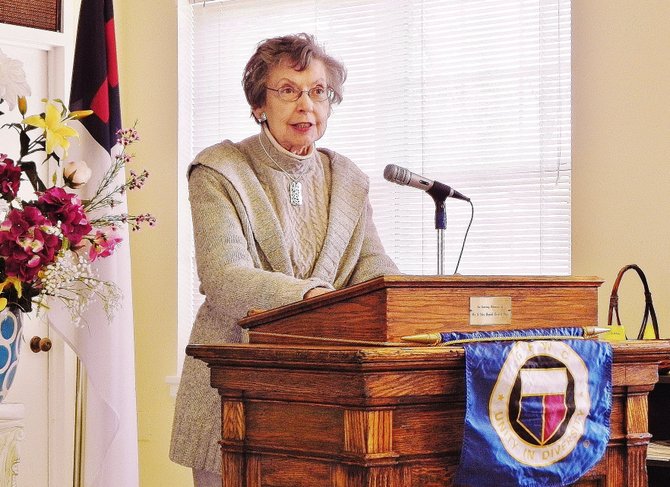 Dr. Maurine Hoffman Beasley, journalism professor emerita at the University of Maryland and author and co-author of numerous books on the media and on Eleanor Roosevelt, spoke about her latest book at the Tuesday, April 2, meeting of the Woman's Club of McLean. Dr. Beasley recounted the history of women in Washington journalism from the 1830s to the present, as set out in her latest book, Women of the Washington Press: Politics, Prejudice and Persistence, published in August 2012.
Her story was one of women journalists' gradual progress in professional acceptance and their ultimate achievement of equality with men in the field. Dr. Beasley's account was punctuated with important milestones of progress, as well as amusing incidents, often reflecting historical events and changes in society, as well as the energy of individual women journalists.
Dr. Beasley's latest book, which was for sale at the meeting, is her 10th. She has written or co-written four books about Eleanor Roosevelt and a book on the Great Depression, as well as five books on women and the media. During her tenure at the University of Maryland, Dr. Beasley specialized in the history and portrayal of women in journalism. She is a former education editor of the Kansas City Star and a former staff writer for the Washington Post. She holds bachelor's degrees in history and journalism from the University of Missouri, a master's degree in journalism from Columbia University, and a Ph.D. in American civilization from George Washington University.