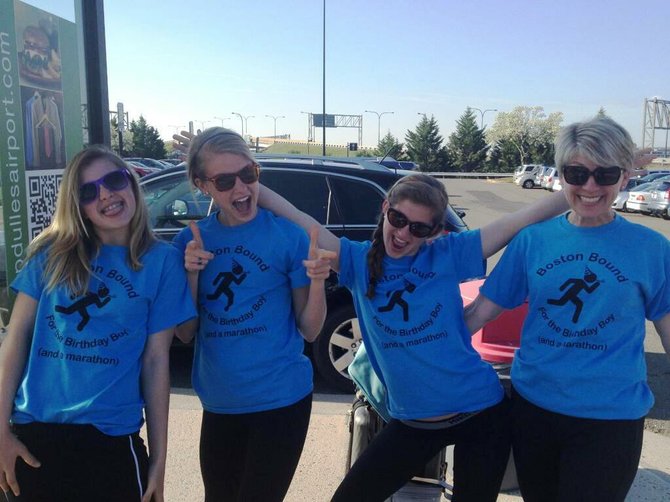 The Wittich family of West Springfield was excited about attending the Boston Marathon, one of the historic city's prominent annual civic pride events.
On Saturday, April 13, Christine Wittich, a West Springfield High School student, posted several tweets about the upcoming trip. "Wittich invasion has commenced. Is Boston ready?" and "Yay for being that matching family," with a photo of mom Julie and sisters in matching blue t-shirts.
But after Monday's bomb blasts transformed the Boston Marathon into a scene of chaos and terror, leaving three dead and more than 100 injured, Wittich's tweets became more muted.
On Monday, she tweeted "Us three girls found our dad, Julie is at the hospital but she'll be fine. God is good. Continue to pray."
A West Springfield neighbor said she wasn't certain if Julie Wittich was a runner or a spectator, but after the bomb blasts—as she and other neighbors watched coverage of the attacks—she saw Julie on CNN being carried by New England Patriots Super Bowl champion Joe Andruzzi.
According to The Boston Globe and other national news sources, Andruzzi was at the annual event to support a team running for his (Up) Beat Cancer Joe Andruzzi Foundation. His three brothers are New York City firefighters who aided victims during the Sept. 11 attacks, and Andruzzi stepped in to help injured bystanders.
"In some of the video I saw, her wonderful daughter was actually carrying her on her back before Andruzzi came along," Bachman said.
An MSNBC broadcast report caught that moment on tape. Christine and her sister Maddie are holding Julie and yelling for news reporters to help, while Andruzzi can be seen in a store window reflection running to assist.
Boston Globe photographer Bill Green captured a dramatic photo of Andruzzi cradling Julie Wittich, while her daughters walk on either side of him. The photo received a lot of attention, and Andruzzi released a statement Monday, April 15, saying he would prefer not to talk about his experience:
"Marathon Monday should be about uplifting stories, personal challenges and fundraising milestones, but today's bombings irrevocably changed that," Andruzzi said.
"While I appreciate the interest in hearing our perspective on today's horrific events, the spotlight should remain firmly on the countless individuals—first responders, medics, EMTs, runners who crossed the finish line and kept on running straight to give blood, and the countless civilians who did whatever they could to save lives. … They were the true heroes. Our thoughts [and] prayers go out to all those affected by this senseless tragedy."
Annie Masterson Dipert, another Springfield neighbor, commented on Andruzzi's foundation Facebook page.
"I speak for legions of neighbors who are thankful for you carrying our dear Julie and leading her girls out of harm's way. We thank you for your selfless act," Dipert wrote.