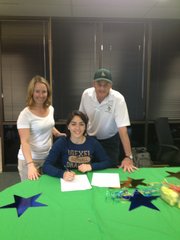 Ashley Panetta committed to becoming a Drexel Dragon and playing D-I softball for Drexel University beginning in the 2013-2014 season on Wednesday, April 17, at a signing party with teammates, parents, her school's athletic director and friends. After considering several offers from schools across the country, Ashley decided to accept the academic and athletic scholarship offer she received to attend Drexel University to pursue her academic studies.
Ashley, a senior at Langley High School, is a four-year varsity starter, team captain and an all-district player. She began playing in Southern California when she was 7 years old and has never stopped since.
A five-year resident of Great Falls and a Virginia Shamrocks player, Ashley's experience in elite level competition and national tournaments in over 15 states has prepared her for her continued career at Drexel.
Ashley is also a 2012 National AP Scholar and plays 1st Chair trumpet, with a top spot in the Langley Wind Symphony. She earned Outstanding Musician and Musical Contribution awards each year. Ashley's other interests are Key Club volunteering and participating in the Best Buddies program at Langley High School.
Ashley intends to pursue a career in pediatric physical therapy while at Drexel University, which offers a Doctorate of Physical Therapy program.