Tyler Seckar, Langley rower and graduating senior, has won the Hillary J. Fein Spirit Award for the "athlete who best embodies the true spirit and passion for Crew."
This honor is awarded every year by Langley Crew to honor the memory of Hillary Fein, Langley Class of 1999. Fein was a dedicated member of the Langley Crew Team who died in 2000.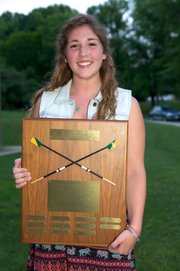 Words engraved on the plaque from a diary entry made by Hillary in 1996 after the Stotesbury Regatta in Philadelphia read in part, "Today … we realized what 'team' means … honor, heart and honesty about pulling your best and never giving up. I am dedicated to this sport forever. You don't win a race on the water, you win a race in your heart."
Although injured this year and unable to directly compete, Seckar came to every single practice and regatta, helping her coaches and teammates in any way she could. Head Women's Coach Ashley Leake said, when selecting Seckar for the Fein award, "There was really no debate as to who it should be this year. Tyler just embodies everything we hope these kids learn about crew and what crew can teach you in life."

Seckar served as Captain of the Langley women's team as a junior in 2012-13 and again this year as a senior. In 2013, she was part of the Langley Women's Varsity 4 that had an undefeated record in state competition and won first place at the Virginia State Championships. Her boat also went on to finish in eighth place at both the Stotesbury and SRAA Nationals Regattas.
In addition, Seckar won medals at the 2013 Ergathon as fastest varsity woman and best power to weight and won Langley's 2013 Hammer award for fastest varsity woman. She raced at the Mid-Atlantic Erg Sprints in 2012 and 2013, finishing 12th and 8th, respectively. In 2012, Seckar won the Langley Captains' Award. Finally, Seckar also raced for Thompson's Boat Center during the fall 2012 and 2013, winning second place at the 2012 Head of the Schyukill as part of TBC's Women's Junior 8.
Seckar was recruited by Trinity College, the 2014 NCAA Division III Women's National Champions, where she will enroll as a freshman in fall 2014 and start her college rowing career.