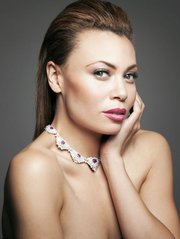 Alyson Cambridge doesn't want to put limits on herself or theater.
The graduate of Sidwell Friends School, Arlington native and Broadway star will be starring as Julie Dozier in the upcoming Kennedy Center run of Jerome Kern and Oscar Hammerstein's "Show Boat," directed by Francesca Zambello, bringing home the production she's been a part of for the past few months in Chicago. And, while in town for the 15-show run, Cambridge will sing the National Anthem at National's Park, on May 11, before a baseball game.
"It's a lot of fun, especially since I get to do something I love," Cambridge said of her homecoming shows.
It's not the first time she's performed in this area, but there's a special affection for this particular production of "Show Boat," bringing together the grand musical sound of a full orchestra and classically trained voices with one of the best-known musical theater pieces in the country.
Cambridge said she loves performing "Show Boat" in an opera setting, because the songs are big, the music is big and the story is big.
"It's a different art form," Cambridge said of opera compared with other kinds of musical theater. "Musical theater is usually performed in a smaller theater, without an orchestra, and the singers are amplified. Opera is unamplified, in a bigger theater, and the voices have to be big to carry out over something like 3,000 seats. Without a microphone. It's difficult in that aspect, but that's what's great about doing 'Show Boat' as an opera."
Alyson Cambridge will be part of the cast of "Show Boat" at the Kennedy Center for 15 performances starting May 5. During that time, she'll also sing the National Anthem at Nationals Park before a Washington Nationals game on May 11. Tickets to the Kennedy Center production are available online at www.kennedy-cente....
Cambridge, who got her start in 2003 when she was named as a grand prize winner of the Modern Opera National Council Auditions and spent much of the next decade with various companies, including the Metropolitan Opera and the Lyric Opera of Chicago, started singing on a lark in middle school.
A "ham" from childhood, Cambridge was goofing around doing impressions in her parents' home in Arlington when a neighbor overheard her pretending to sing in an operatic voice. The neighbor suggested Cambridge take singing lessons, which she started at 12. Most of her classmates didn't know about her singing talent until her senior year at Sidwell Friends, when she sang during a school event. Later, she majored in sociology and voice in college, but her love for music and singing won out and became her career.
Her resume includes turns as Frasquita in "Carmen" and Musetta in "La Boheme," but she's really enjoying the opportunity to perform in "Show Boat" again.
During the show's run in Chicago, Cambridge said she'd be standing in the wings preparing for her cue, which comes after the dramatic and well-known belter Old Man River. Each night, regardless of how many shows had been performed, she'd get goose bumps hearing the song performed by the character Joe, played by Morris Robinson.
"Old Man River is one of the greatest songs for bass voices," she said. "Morris is fantastic."
CAMBRIDGE IS EAGER to perform at the Kennedy Center, where she's certain there will be some old high school friends and family in the audience. As for singing the National Anthem, it'll be the first time she's sung in a professional sports arena. She's sung the song in front of a large crowd before — before a Paul Simon concert last summer.
"It's so exciting, I can't even tell you," Cambridge laughed. "When I got the call, I was so excited."
She'll be working with a voice coach prior to the big day, May 11, to ensure she hits all the notes in what is considered by some professional singers to be among the most challenging of songs.
Is she nervous about forgetting the words, as some professional pop singers have done, to great Internet laughter?
Cambridge said no, because if a word or two goes missing from her memory, the lyrics will be on the large TV screens in the park.