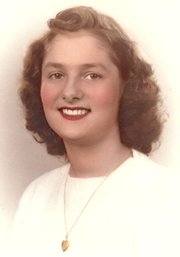 Grace Thomas died on Friday, April 19, 2013, in Haverhill, Mass., of natural causes. She was 82. Thomas was born on June 13, 1930, in Saunderstown, R.I. Formerly known as Grace Lorena Matterson, she married Walter R. Thomas in 1950. They were married for 59 years.
While her husband served 35 years in the U.S. Navy as a pilot, Thomas devoted herself to her family and to volunteer work. Volunteering was always part of her life. She was vice chairman of volunteers for the Red Cross of Newport, R.I. for which she received a commendation in 1968. She trained as a Red Cross "gray lady" (she still had the gray jacket) and worked at the State Red Cross Headquarters.
Thomas was the Ladies Auxiliary VFW Outstanding Community Volunteer of the Year for 2006. She was well known at Post 7327 in Springfield, where she worked all aspects of VFW Bingo operations and made many dear friends among her "Bingo family."
Her most rewarding experiences were her visits to the VA Hospital. She was quoted as saying, "The military is an environment that is rich with both opportunity and need for volunteer workers in so many capacities. Whenever I see a need that I am able to assist with, or if I am asked to provide support, I am happy to oblige because I know my efforts are helping someone in need."
Thomas is survived by her son, Robert Thomas, her daughter-in-law, Brenda Thomas of Haverhill, Mass., her grandson Sean Thomas, and her daughter-in-law, Susan Thomas, of Ft. Collins, Colo. She is pre-deceased by her husband, Captain Walter R. Thomas, and by her son, Rick Thomas.
A visitation will take place at Demaine Funeral Home, 5308 Backlick Road in Springfield, from 2-4 p.m. and 6-8 p.m. on Wednesday, May 1. She will be buried with her husband at Arlington National Cemetery at a date and time to be determined. In lieu of flowers, the family is asking that donations be made in the name of Grace Thomas to the Cure Alzheimer's Fund, via http://curealzfund.org/ or by mail to Cure Alzheimer's Fund, 34 Washington St., Suite 200, Wellesley Hills, MA 02481.