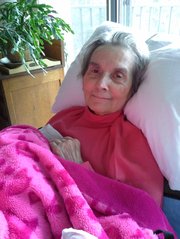 Kay Cecile Kinsey died early Monday morning, April 22, 2013, after a long illness. Kay was born in Greenville, S.C., on Dec. 19, 1937. Parents John William and Margaret Logue Kinsey and sister Peggy Kinsey Clark predeceased her. Kay grew up in Greensboro, N.C. She loved school and by the fifth grade, she knew that she wanted to be a math teacher. Kay attended The Woman's College of the University of North Carolina, now UNCG, where she received a degree in Mathematics in 1960. While in college, Kay played the viola in the Greensboro Symphony Orchestra.
After graduation Kay began her teaching career in the Greensboro City Public Schools. In 1964, she moved to Alexandria, where she taught 7th grade math at Parker Gray Middle School and George Washington Junior High School. In 1978, Kay began a loving partnership with Juanita Illera. After her retirement in 1993, she continued her love of numbers as a tax preparer for H & R Block.
Kay was an active member of the Mu Chapter of Delta Kappa Gamma, the Alexandria Retired Teachers Association, and All Saints Episcopal Church, where she was an usher, greeter, and member of the team that volunteered at Carpenter's Shelter.
Kay cherished her family and spent many summers and most holidays with them. She always enjoyed attending her Logue and Kinsey family reunions.
Her friends were many and diverse. She enjoyed traveling, antiquing, camping, bowling, photography, coin collecting, informal group singing (especially gospel hymns and "old timey" music). She loved spending time with family and friends at her vacation home, "After Math," at Bryce Resort.
Kay will be remembered for her marvelous sense of humor and quick wit, her consistency, loyalty, integrity and dedication, her capacity to accept others without judging them, and her unfailing love for family and friends.
Kay is survived by her partner, Juanita, her nephews Jamie and John Clark, her niece Margaret Logue Gibb, their spouses and children, and Kay's cousins and their families. Longtime friends, Anne Thomas and Loretta Kuhn and many others will treasure her memory.
A memorial service will be held at All Saints Episcopal Church, 3421 Franconia Rd Alexandria, on Saturday, April 27, 2013 at 11a.m.
In lieu of flowers, donations may be made to All Saints Episcopal Church. Online condolences may be offered at cunninghamfuneralhome.net.