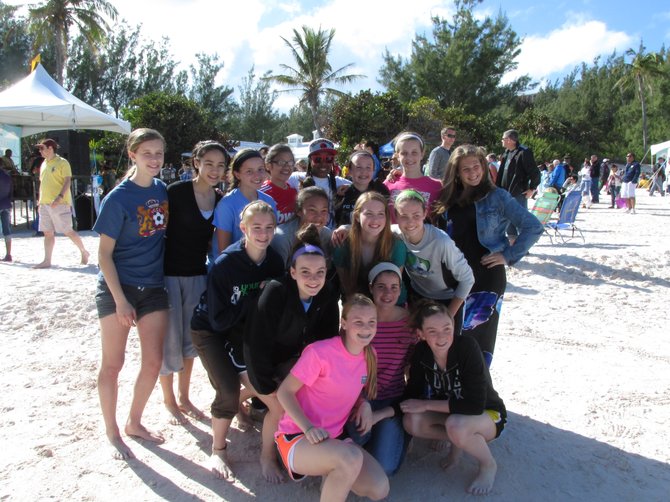 While other Elite Clubs National League soccer teams took a well-deserved break, one team went on the trip of a lifetime. FC Virginia U14s traveled to Bermuda over the Easter holiday, having the opportunity to experience island life while also playing against the full Bermuda women's national team, and a high school team from Florida.
"It was a great trip and a great experience on and off the field," head coach Christian Cziommer said. "We actually were a football team for four days instead of a soccer team, I think that says a lot about what the status of soccer is on the island. Everyone was talking about football, recent scores, very different to the US and great for the players to see."
The experience provided a much different routine for FC Virginia's players—instead of facing off against peers, the team had to learn to deal with bigger, stronger and faster opponents of the Bermuda national team.
Not to mention the facilities that Bermuda had to offer.
"It was great to play against that high pressure because it forced us to move the ball even quicker," Cziommer said. "The fields were high quality Bermuda grass fields and for the players a great experience to play on the National Training Center facility. And of course, like on every European field, a clubhouse with locker rooms and meeting area to hang out a team.
After opening the trip with a 3-2 win against Bermuda—thanks to Gabriella Gordon's game-winning penalty kick—FC Virginia drew 1-1 against its high school opponents, and finished the trip with a 1-0 loss against Bermuda.
Players in the ECNL are used to a high level of intensity, but playing a national team presented a unique challenge to not just the athletes, but also to the coaches in how to approach a different kind of game.
"Before the first game [our players] were very nervous, and looking at the size of the players on the national team it's understandable," Cziommer said. "We told the players our expectations are to enjoy the game and the environment and play our possession style game, everything else will come by itself. We put a lot of emphasis of taking everything in as an overall experience, not to look at the games or scores only but also what we are doing as team off the field."
The island backdrop allowed for plenty of activities off the field: trips to the beach, live music and something quite different to the hectic setting of Northern Virginia. It was also a platform for a strong team bonding experience, and for many players, the first time leaving the country.
On the FC Virginia trip roster was: Kathleen Brumagim, Rachel Fischer, Gabriella Gordon, Isabella Gordon, Kelsey Hamer, Catherine Kwitnieski, Katie Le, Allison Maliska, Grace Mondloch, Randi Palacios, Casey Peterson, Quinn Rogers, Abigal Rynex, Kaitlyn Small and Rebecca Crouch.