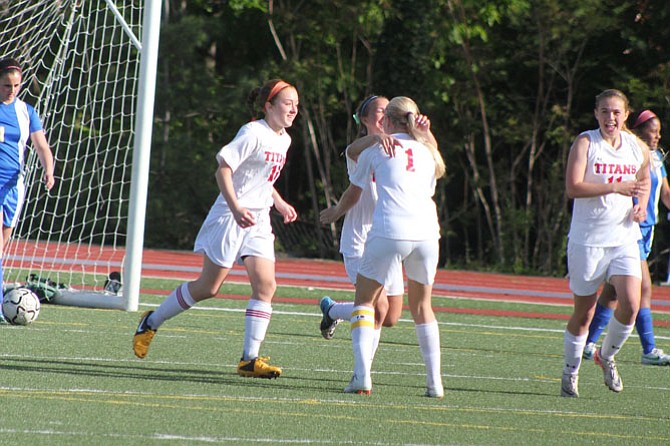 Every spring more than 100 boys crowd the soccer field at Parker-Gray stadium to try out for the reigning state champion T.C. Williams boys' soccer team. However, two faces were absent this year that could have rerouted the direction of the season: Eryk Williamson and Jorge Calix.
In 2014, Williamson was the lead scorer for the Titans, totaling 22 goals for the season and receiving an All-Met title. Calix, although never permitted to play for the Titans, competes at an equally high caliber as a midfielder for the Honduras U20 national team. Both players participate in the Development Academy League for DC United's U18 team and will play for the University of Maryland this coming fall. Under academy rules, Williamson and Calix are not allowed to play for T.C. and other teams not approved by the league.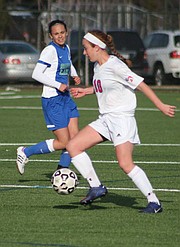 "High school has fallen off the past couple years because of these rules," said Williamson. "[My coaches are] not fans of something they think will not benefit me in the long run."

The boys' program was not the only one that suffered losses this year. Junior Zoe Boocock did not return to play for the girls' team after committing to Dartmouth College. She was on the team in 2013 when the T.C. girls beat Lake Braddock and advanced past the first round of districts for the first time in over 20 years.
Freshmen Bella Ponzi and Claire Constant played for the Junior Varsity team last season, but decided to leave the Titans this year as well. "After going through the high school tryouts and trying to balance them both, I decided it would be most fair to both myself and the girls on the teams to step away from high school soccer and focus on club," said Ponzi. She also had to give up playing for ODP (Olympic Development Program) to further commit to her club team, FC Virginia. "I knew going into the spring I really wanted to focus on improving my game and increasing my speed of play; and training at a higher level with these girls (on FC Virginia) would help me with that."
Constant came to a similar consensus. After she attempted to balance high school basketball with her club team in the winter, she realized the mental and physical demand of committing to two competitive teams was too draining.
"During basketball season, I could feel my body breaking down," Constant said. "You want to be there for your high school team and you want to be there for you club team, but it's hard to do both."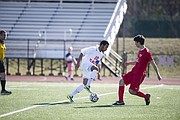 So what does this mean for the future of high school soccer? If the most talented players in every high school are choosing to play for elite clubs over their high school teams it detracts from the competitiveness of the game at the high school level. Unlike other sports such as lacrosse at St. Stephen's & St. Agnes School, where spots are coveted and attract the attention of top-tier college recruiters, soccer is shifting its emphasis to the club level.
"High school doesn't matter for recruiting. It's all about club," said Bishop Ireton senior Bridget Snydstrup, who plays for both her high school and travel team.
For athletes hoping to compete at the next level, club and high school coaches agree that club provides the most exposure. In the college showcases attended by Elite Club National League (ECNL) teams, there can be up to 100 or more college scouts, a majority of whom are from Division I universities. Less competitive club teams can also compete in similar tournaments, which attract lower-tier schools, but still allow players to develop connections with college coaches.

"College coaches won't attend a high school game where they might see one player when they can attend a showcase and see a pool of hundreds of players," said Constant.
In recent years, the recruiting process has shifted target groups from juniors in high school to younger players in as low as eighth grade. Constant, 15 years old, has already been approached by a number of coaches who have attended her tournament games. This is why many talented players looking to commit to college teams are opting to play club over high school soccer.
"I think a better job needs to be done overall with the system on how the different levels of soccer are being handled," said Chris Arnold, who coaches the girls' soccer team at St. Stephen's & St. Agnes School and three club teams for the Alexandria Soccer Association. He believes communication between the players, their families and coaches should be a top priority. Arnold also said that travel and high school coaches need to be more flexible so players can have the opportunity to play in both leagues.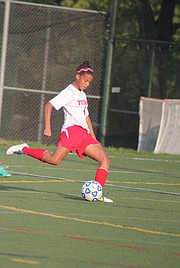 Ally Hodgkins, head coach for the T.C. girls' soccer team, tailors her practices to accommodate all of her players, most of who play on club teams. "I had to find a balance during our practices to prevent girls from being burnt out while still considering there are others that aren't playing in additional games or practices," Hodgkins said. "It is definitely a day-by-day consideration."
Balancing two sports at once can take a large physical toll, especially on younger players. "Playing club in high school means double everything. Two practices in one day and game after game. I learned to manage my time well and got lots of rest when I had the chance," said Bishop Ireton sophomore Lilly Weber. "I remember one game, I wasn't playing my best and [my coach] kept calling me out. I had a high school game the night before and woke up at 5 a.m to drive to North Carolina for a league game. At the end of the game, he called me out [on playing poorly] and I agreed with him because all he said was true."
However, Weber's exhausting experience is not an unusual one. On higher-level club teams, players typically practice three to four times a week and can have anywhere between one to five matches on a weekend, depending on whether they are participating in a tournament or not.
"Players who were practicing for high school five times a week along with club and academy training were just getting exhausted," said Thomas Torres, the head coach for the DC United U18 team. Although Torres did not make the decision to disallow academy players from playing high school soccer, he speculates the rule's main purpose is to prevent overuse injuries caused by competing on multiple teams. "Our main concern is the health of the players."
Despite the risk of injuries and fatigue, high school is still considered by many to be an important and valuable experience for athletes.
"They're learning how to adapt, be flexible, be leaders, balance their commitments and how to play with people they aren't used to playing with. It's making them better players and also making them better people," said Hodgkins. "I do feel it is unfortunate that some (players) miss out on the chance to play for their high school team."
The debate between high school and club soccer is becoming an increasingly pressing issue, especially as high school coaches discover yet another face will be missing at tryouts next season.
"If a player wants to play high school and club let them," said Weber. "Choosing to play club over high school or both should be the player's decision, not the coaches' or teammates'."