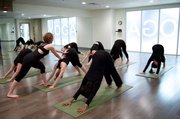 Amanda Shipe presses the palms of her hands into the back of one of her students. The student's body forms a triangle, her head dangling upside down, the balls of her feet squeezing against the coarseness of the yoga mat beneath her. Shipe's touch sends the student's sitting bones skyward.
"[This] is called 'downward facing dog.' We do a lot of hands on alignment in our yoga classes to make sure students are doing their asanas [postures] correctly," said Shipe, who runs Mind Your Body Oasis yoga studio in Arlington.
Shipe and other area yoga studio directors are welcoming new students into their doors this week as part of the eighth annual D.C. Yoga Week, an effort by the Washington-area community of yogis to raise awareness about the practice.
Participating yoga studios are offering free and $5 classes along with discounts on merchandise and workshops. The weeklong event began April 29 and culminates with Yoga on the Mall, an outdoor yoga class of more than 1,000 yoga enthusiasts of all skill levels that will be held this Sunday, May 5, from 11 a.m. to 1 p.m.
"There are a lot of people who are afraid to take yoga. Some people have a misconstrued perception of what yoga is. This week they can take a class without making a large investment and become more familiar with yoga," said Dawn Curtis of East Meets West Yoga Center in Vienna.
Shipe believes rampant misinformation fuels the trepidation that keeps some people at bay. "There are so many fears about yoga and so much talk out there in social media," said Shipe. "This event will raise awareness about how great yoga is for your mind, body and spirit. It will bring new people into yoga classes and remind people that yoga is pretty mainstream and very available at many studios."
Jatin P. Ambegaonkar, Ph.D., an associate professor in George Mason University's College of Education and Human Development in Fairfax, says the week-long focus on yoga is an opportunity to educate those who are unfamiliar with the practice.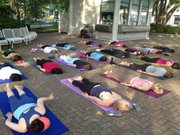 "Scientific evidence has shown that the clear benefits of yoga include a sense of relaxation, a sense of well-being, a sense of cardiovascular wellness and musculoskeletal wellness," said Ambegaonkar, who lives in Centreville. "The problem with yoga is that in the last eight to 10 years, there have been a lot of hybrids that have branched out from the original Indian art form of yoga, like power yoga and hot yoga, that are somewhat of a fad."
Ambegaonkar added that while such popular forms of yoga are not necessarily harmful, more research is needed. He also offered a caveat. "One of the basic tenets of yoga is the focus on the body and recognizing it as being a temple," he said. "People who practice yoga regularly know when they have reached their limit."
According to its co-founder, Annie Mahon of Circle Yoga in Washington, D.C., Yoga Week began as a way to expand the yoga community and increase cohesiveness. "One goal is to make yoga accessible to a wider audience," she said. "We'd like to be able to do more community-based yoga, like therapeutic yoga and support yoga in different areas of the [region]. We want to create more community in the yoga world."
"Yoga week really encapsulates what yoga is about, which is community, togetherness and unity," said Sara VanderGoot of Mind the Mat in Alexandria and Arlington. "The word yoga itself means unity. We're all part of the same whole and yoga week embodies that truth."
Freddy Margolis of Village Yoga in Potomac, Md., plans to join Yoga on the Mall. He also hopes D.C. Yoga week will unite local yogis.
"The D.C. area has one of the strongest yoga communities in the country," he said. "People get worried about their own studios, but it's nice for us all to come together and have a nice day out on the Mall."
For more information about D.C. Yoga Week, Yoga on the Mall or to find a list of participating studios, visit HYPERLINK "http://dccy.org/" http://dccy.org/.