Yoga instructor Luann Fulbright of McLean moved her practice from the mat to a gallery recently when she joined diplomats, philanthropists, artists and fellow yogis at a gala to celebrate the opening of "Yoga: The Art of Transformation" at the Arthur M. Sackler Gallery in Washington, D.C. It is the world's first exhibition on the art of yoga.
"I couldn't be more excited to have been able to attend this exhibit," said Fulbright, a director of Dream Yoga Studio & Wellness Center in McLean. "It's not only the first of its kind, but it was put together by a team of scholars led by Debra Diamond, an exquisitely studied and curious curator who brings her depth knowledge of Indian and Asian art and yoga together to shed light on the history and fascinating, many missing stories of yoga that are like yoga itself — mind expanding."
The exhibit, which opened Oct. 19, features temple sculptures, devotional icons, manuscripts and court paintings created in India over the past 2,000 years. With artifacts borrowed from 25 museums and private collections in India, Europe and the United States, the exhibit explores yoga's diverse history.
"It's great to have an exhibit that educates people about the roots and origins of yoga and what it can do for their lives and their health"

— Sara VanderGoot of Mind the Mat Pilates & Yoga
Museum officials said the exhibit reunites three monumental stone yogini goddesses from a 10th-century Chola temple for the first time, as well 10 folios from the first illustrated compilation of asanas, or yogic postures, made for a Mughal emperor in 1602, which have never before been exhibited together. The exhibit also includes Thomas Edison's "Hindoo Fakir" (1906), the first movie ever produced about India.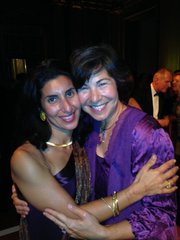 Maryam Ovissi, one of the exhibit's sponsors and the owner of BelovedYoga studio in Reston and Great Falls, said she appreciates such a comprehensive exploration of the evolution of yoga.
"Yoga has become a very loaded word in our society, and there are many facets to it. You can think of yoga as a gem," she said. "The exhibit shows that yoga has philosophical roots. It offers an understanding of [yoga] as a healing modality and gives a perspective of how it was introduced to the West and evolved into what has become today. The curator did an excellent job of showing that it's an entire journey. People will walk away knowing that yoga is rich and has layers to it."
YOGA INSTRUCTORS said the exhibit will educate people about the practice. "Having an exhibit like this confirms that yoga is so much more than most folks today think," said Fulbright. "It's not a fad. It's not a particular religion. It's not just exercise. It's a constantly developing practice that people from many cultures have embraced for thousands of years to transform and empower themselves and their nations. I'm encouraging all [of my] students to see this exhibit, which can't help but motivate and deepen their practice."
Great Falls resident Jean Edelman, an exhibit sponsor and one of Ovissi's students, hopes those who make the trek to the Sackler Gallery will walk away inspired. "I think it is a wonderful opportunity to bring to light yoga to people who never knew anything about it. It is a great for the mind, body and spirit."
Dawn Curtis, owner of East Meets West Yoga Center in Vienna, also attended the opening gala. She believes the exhibit will offer attendees "a great education about the vastness of yoga and its practices. It is an amazing exhibit. The most extraordinary room … is what I would call the Goddess room: three beautiful yoginis brought together in one room," she said, referring to the Chola goddesses.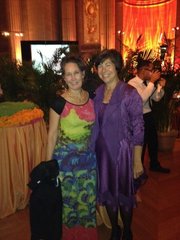 Alexandria resident Heather Sutliff, of East Meets West Yoga Center, said the exhibit will make yoga more accessible to a wider audience. "I think the fact that the Smithsonian has dedicated an exhibit to yoga spotlights its growing influence in society," she said. "It kind of endorses yoga's legitimacy and makes people sit up and take notice, and think, 'Hey, maybe I should look into this yoga thing.'"
She also hopes people recognize the health benefits. "Yoga practice not only helps calm the mind, but has significant physical benefits that can be realized right after your first yoga class," said Sutliff. "There are many medical studies that show consistent yoga practice reduces the risk of heart disease and diabetes and can lower cholesterol levels. I look forward to the day when I can get a prescription for yoga practice as easily as a prescription for a statin or beta-blocker."
Yoga instructor Sara VanderGoot, of Mind the Mat Pilates & Yoga in Alexandria and Arlington, said the exhibit will raise awareness about the practice. "The exhibit really means a lot to the yoga community," said VanderGoot. "It's great to have an exhibit that educates people about the roots and origins of yoga and what it can do for their lives and their health."