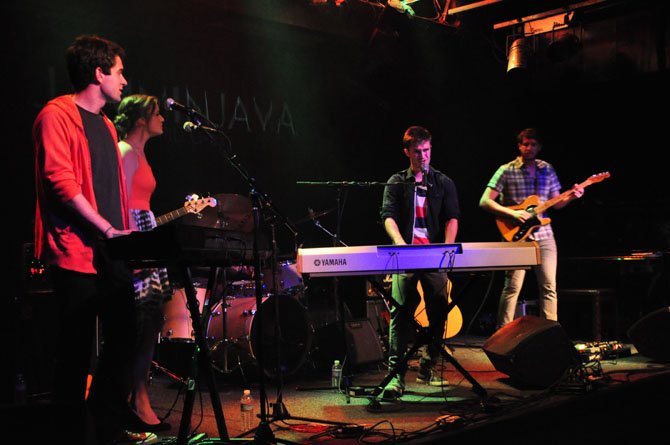 Vienna — Growing up in Herndon, A.J. Smith went to see plenty of shows at Jammin' Java in Vienna. On Sunday, Aug. 4, the singer-songwriter went to another show at the venue, but this time he was the headliner.
"I remember going to see Crash Boom Bang at Jammin' Java when I was a freshman in high school, and went to a lot of shows after that," he said. "It's always exciting to come back, but it's really exciting to be able to take the stage at Jammin' Java."
Smith, a senior at NYU, last played in Northern Virginia in July 2012, when his band performed at Café Montmartre at Lake Anne. Since then, Smith has revamped his band, adding a keyboardist and backup vocalist, and honed his skills even further.
"I think I've evolved a lot over the last year, I'm focusing much more on good arrangements, and trying to make each song something special," he said. "I'm trying to make my music more than just a rock band playing in a café."
Smith has had some help in his development. He has been working with Glenn Frey, a founding member of The Eagles who taught a songwriting class at NYU.
"It was amazing to work with him, and he really helped me work some songs out. There was one, 'If Only You,' that I was just ready to scrap, but he heard it and told me to keep working, now it's one of my favorite ones," he said.
SMITH was able to open up for The Eagles when they played a benefit concert at New York's Beacon Theatre. Another one of his songs, "Summertime," was released in Australia, where it climbed to number three on the club charts.
He has also had the chance to work with Roseanne Cash, daughter of Johnny Cash, and songwriter Claude Kelly, who has written for artists such as Britney Spears, Bruno Mars and more.
"Claude gave me some great comments on my songs," Smith said. "I played him one of my new songs, one I knew had some problems, and he picked them out, and also said he really liked my lyrics."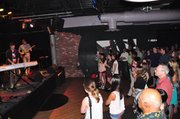 Smith has been playing music since he was 3, when he began playing piano. Before long, his parents were unable to tell if he was playing songs from his lessons, or songs he made up himself. Soon, he picked up the violin, playing for a few years with the Herndon Methodist Church's Circuit Riders band. Recently, the violin has been a part of his music once again.
"I figured it was time to bring it back, and I've incorporated it into some new songs," he said. "Sometimes it's sort of a softer Celtic-style fiddling, other times it's hardcore electric violin. I think it adds a really unique vibe."
Smith brought out his violin for two songs during the Jammin' Java show. On "Battle Hymn," which was written in the aftermath of the shootings at Sandy Hook Elementary School, he played a slow, mournful melody, while "Jeopardy" let him saw away in a much faster, harder song.
"It was a fantastic show, really an exploration of a lot of different genres," said Melissa Herd of Falls Church. "He did some lighter, catchy pop tunes, some heavier stuff and some ballads, all of which sounded great. I liked how he played a few songs with the full band, and then went more acoustic for a while."
VERSATILITY is the name of the game for Smith when it comes to performances. During the show he switched from keyboard to acoustic guitar to violin, depending on the song. His songs ran the gamut from hard to soft, fast to slow, soft to loud.
The same versatility was on display with the band itself during the show. For a few songs, his lead guitarist, keyboardist and backup singer left the stage, leaving him to perform trio-style with drummer Tom Jorgenson and bassist Lloyd Kikoler.
Darin Zhou of Vienna wasn't familiar with Smith, but attends Jammin' Java shows regularly.
"Shows like this are why I come to random weeknight shows here, because you can find people you otherwise might not hear about," he said. "I thought the band was great, they had a great presence, and seemed to really connect with the audience, who in turn responded in a really fun way. I'll definitely be checking them out online later."
Smith was named a Carol Bayer Sager Songwriting Scholar and was admitted to NYU's graduate songwriting and film score program. He was also named Most Influential Student at NYU by the Washington Square News. He released his debut EP in April of this year.
More information on Smith can be found at www.ajsmithmusic.com.