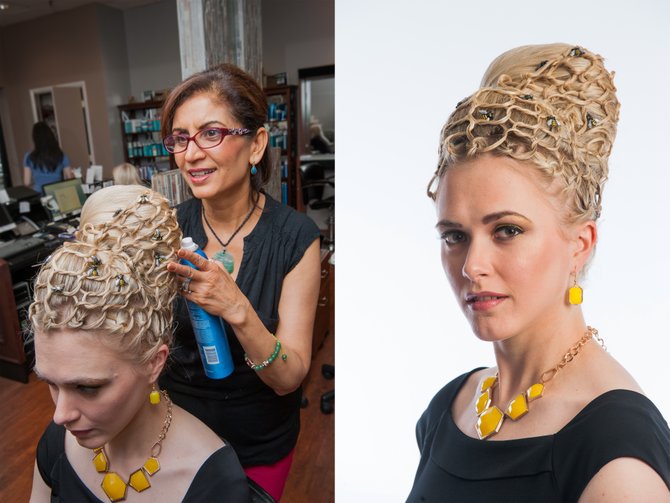 Tangles Hair Salon and Spa of Burke designed a unique beehive hairstyle in honor of upcoming National Honey Bee Day, Aug. 17. The salon plans to host a free, "bee-auty" event to raise awareness about the honey bee crisis.
Complimentary beauty treatments will include beehive updos, bright yellow eye makeup, relaxing paraffin wax treatments, and sunny yellow minimanicures. These complimentary services will be available from noon to 3 p.m. on Saturday, Aug. 17.
Millie Singh, owner of the salon and a hair and makeup artist, first decided she wanted to help the bees after learning that one-third of managed honey bee colonies have disappeared due to colony collapse disorder. With bees pollinating more than one-third of everything we eat, Singh believes it is important for people to support honey bee research. She came up with the idea to create a beehive updo that resembled an actual beehive. She asked Kathryn Farenish to be the model.
The free event is at Tangles, 6030 Burke Commons Road from noon to 3 p.m. More details are at www.facebook.com/tangleshairsalonandspa.