"For many years, our mission statement has been, 'To Be the Best Hospital.'"

-James B. Cole, President and Chief Executive Officer, Virginia Hospital Center
With the large banner shining above Virginia Hospital Center in Arlington noting it is the 2013 winner of the Truven Health Analytics Top 100 Hospitals Award coupled with the coveted 2013 Everest award, hospital personnel have reason to be proud. And, so do residents of the surrounding community and those throughout the region. This award is one of high distinction among hospitals nationwide.
For 20 years, Truven Analytics has been analyzing publicly available data to identify the best hospitals in the country. A number of metrics are analyzed that include core measures and patient satisfaction data from the Centers for Medicare and Medicaid Services Hospital Compare Website along with other metrics that include mortality, medical complications, patient safety, average patient stay, expenses, profitability, patient satisfaction, adherence to clinical standard of care, post discharge and readmission rates for acute myocardial infarction (heart attack), heart failure and pneumonia. Information was reviewed on approximately 14 million Medicare patients discharged from 2,922 U. S. acute-care hospitals.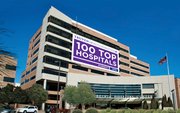 Truven Analytics classifies categories of hospitals that include major teaching hospitals, teaching hospitals, and large, medium and small community hospitals. The matrix of the 100 Top Hospitals is comprised of a two-dimensional analysis. It provides a view of how long term improvement and current performance overlap and compare with national peers. "We had no idea it was happening. The positive thing about this is it is what we've been focusing on anyway," said Adrian Stanton, vice president and chief marketing officer at Virginia Hospital.
"Hospitals do not apply for the 100 Top Hospitals Award, and the winners do not pay to market their award," said Jean Chenoweth, senior vice president, Truven Health Analytics. The reward reflects a culture of excellence as well as visionary leadership. "At a time of tumultuous change in our industry, they have consistently found ways to improve health outcomes for their patients and build successful business cultures to promote and support an emphasis on quality in everything they do," said Mike Boswood, Truven Health Analytics president and CEO.
"This one to us is meaningful. It looks at a very large array of various quality measures. Quite frankly, we think they are all important. It validates what we've been doing as a hospital. We want to keep winning this award," said Dr. Jeffrey DeLisi, vice president and chief medical officer.
VHC can also take delight in being one of 17 of the top 100 hospitals nationally to receive the Everest Award, which signifies the hospital has achieved the highest current performance and delivered the greatest and fastest rate of improvement over a five-year period. "This tells folks we are truly a value hospital in quality, service, and cost," Stanton said.
The reaction to both these awards has been one of pride. "I think folks have a pretty good sense of pride. Mr. James B. Cole, president and chief executive officer, has been very keen on staff knowing every single one of them has earned this. This recognition is a result of their work and not just one select group. It is reflective of the care everyone gives," Stanton said. From those who work in valet, parking, food services, and other departments, this award has resonated with the staff, Stanton noted.
Following receipt of the awards, the hospital received a letter of congratulations from U.S. Sen. Mark Warner. In addition, Cole, the CEO, visited every department in the hospital and presented a pin to as many people as he could in celebration of the award. Every employee also received the gift of a canvass beach bag inscribed with the words, "Top 100." A picnic was also held and t-shirts were distributed. There will continue to be events throughout the year for employees in which the theme of "Top 100" will be highlighted to the 2,500 employees of the hospital.
"For many years, our mission statement has been, 'To Be the Best Hospital.' We are striving to be the highest value hospital by providing excellent quality and patient safety, an outstanding patient experience and cost-efficient care," Cole said.
"If walking down a hallway I looked even the slightest bit confused, almost any passing employee, including janitors, would ask if they could be of assistance. The staff members of the various departments all seem very courteous and efficient. I can understand why this hospital has an excellent reputation. As a myeloma patient, I have had many recent visits to this institution. One recent specific example would be completing 16 prescribed radiation treatments at their Department of Radiation Oncology. Not only was I seen at the appointed time, but the professionals seems to know exactly what they are doing while being very caring and friendly. The team efforts tend to be well coordinated," said Melvin Russell, a patient.
With keen competition in the region and throughout the country, Virginia Hospital Center has made its mark. "We try to go about business as usual and focus on what got us this in the first place. We're very happy with what we've seen," DeLisi said. "If your decision starts and ends with what is the in the best interest of the patient that's the right thing to do. We're not going to change a thing. The focus that we believe got us here is what we will continue to do," Stanton said.
Karen L. Bune is a freelance writer and an adjunct professor at Marymount University in Arlington and George Mason University in Fairfax.