Geocaching usually has been portrayed as someone with hiking boots and a walking staff gazing afar from a hilltop in the Blue Ridge Mountains. Not so anymore.
Substantial numbers of those joining the sport are placing and hunting for caches in urban settings, and that includes Northern Virginia.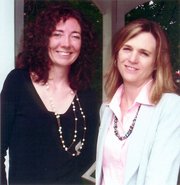 Geocaching is the electronic age blend of a scavenger hunt and orienteering. The U.S. military was ordered to cease jamming satellite navigation signals in May 2000. An unforeseen by-product turns out to be the game of geocaching.
Scavenging games have been around for ages because everyone likes to hunt for treasure. Players receive a list of items and a deadline. The one returning within an allotted time with the greatest number of listed items wins. Orienteering involves use of a map and compass. A series of compass directions, very precisely followed, leads from point-to-point-to-point to the final target site. Running the course in the shortest time determines the winner.
Now add GPS, the Global Positioning System. Some portions of the military's navigational system had been available for civilian use since the 1980s. On May 1, 2000, the President issued a directive which meant "that civilian users of GPS will be able to pinpoint locations up to 10 times more accurately than they do now."
Local Jurisdictions and Geocaching
City of Alexandria has no rules or regulations.
Arlington County admits NOVAGO as a partner in FitArlington whose purpose is to promote physical activity, a culture of fitness and a lifestyle of active living. As to local rules, inquirers are invited to telephone for information.
Fairfax County Parks posts detailed rules on its webpage.
Portable GPS units could lock in on a location within 15 to 30 feet.
It took one week for an engineer in Oregon to connect the concepts of GPS and treasure hunt. He placed a bucket in a wooded area near his home. It contained a logbook and some trinkets for exchange with finders. Posting geographic coordinates via the Internet, he announced a single rule: "Get some stuff, leave some stuff." It was called The Great American GPS Stash Hunt.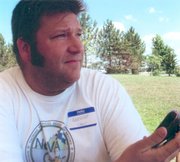 In short order, the game went international. There are over 2 million hidden "caches" and more than 5 million "cachers" world-wide. Those figures for the Commonwealth of Virginia are "about 15,000" and "several thousand," respectively. Northern Virginia is peppered with caches; for example, it is estimated that several hundred are hidden within 5 miles of the intersection of Glebe Road and Columbia Pike in Arlington. Locations range from mountains to the seashore and from public parks to lampposts in urban settings. Each listed cache on the central register appears with a "difficulty level" and a "terrain level," allowing players to select the right searches for their individual interests and physical conditions. Many "smart phones" have a GPS application, so buying a separate, portable GPS unit is no longer necessary.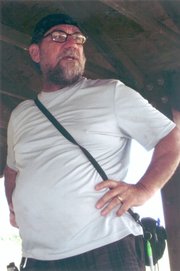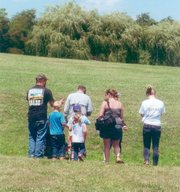 Dave Prebeck, a leader of NOVAGO, cannot hide his pleasure at how the sport has grown over the last few years. He adds "there always is room for more cachers. That is why we hold so many of the free 'Geocaching 101' classes across the area." His employment involves quite a bit of travel abroad, and Prebeck says that finding or hiding a cache is becoming easier every day as people in more than a hundred countries discover the game.
Youth participation is very encouraging. Young people have no fear of electronic devices (unlike some of their seniors), Prebeck observes. Recognition in the form of a Boy Scout or Girl Scout badge leads many to the sport.
There are a number of benefits to geocaching. A search can be combined with a hike or long walk into beautiful natural areas, Prebeck said. "Virginia has many wonderful natural locations." Urban and neighborhood hunts also involve exercise, but are more convenient and less time-consuming. Regardless of location, some participants simply like the mental challenges of solving complicated "puzzle searches," he said. Of great importance, Prebeck added, "Geocaching brings families together because it is a fun activity for all ages." Grouping people into pairs and trios can teach teamwork, so the sport has found its way into company and agency employee training programs.
Chris Gaida of Alexandria admits he is not much a disciple of the game; he has not worked in classes offered by NOVAGO. He has, however, participated in "trash out" forays where cachers remove rubbish from parks and other locations. To Gaida, a major benefit is learning the history of wherever a search leads, which in his case includes the City of Alexandria. Caching also holds opportunities to display a sly sense of humor. He tells of a cache placed in the Del Ray neighborhood: A "puzzle hunt" keyed to the famed musician Jim Morrison who attended school nearby.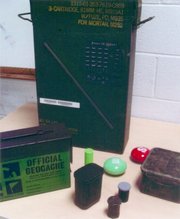 Herndon's Ron Staley also cites learning more of historical events as a positive factor. His example centers on the grave of Laura Ratcliffe, a female Confederate spy buried not far from his home. As to the technical and recordkeeping aspects of geocaching, Staley finds little difference when comparing it with birding (birdwatching).
Apart from finding and hiding things, cachers socialize. According to Prebeck, cachers love to tell stories of successful searches. They also enjoy relating how and why they camouflaged the target containers, the clever places in which caches were hidden and the reasons behind selection of the trinkets left for trade. Get-togethers are informal and include potluck dinners, cookouts and competitive meets.
Curious?
Read "The Geocaching Handbook" (2d ed. 2011) by Layne Cameron (Falcon Guides, Guilford, Conn.). Several public libraries hold a copy, as well as other books on the topic.
Consult the web page of Northern Virginia Geocaching Organization (NOVAGO) at http://www.novago...">www.novago.org.
Follow the link in NOVAGO's webpage to the authoritative clearinghouse of information at http://www.geocac...">www.geocaching.com. Free registration makes you a cacher.
Attend one of NOVAGO's free classes titled "Geocaching 101." They are offered throughout the year and ordinarily meet in a public location, such as a library. The entire game is explained, and operation of a GPS unit is taught.
The Northern Virginia Regional Park Authority has been involved with geocaching for about five years according to Ken Moss, a founder of NOVAGO. Carlyle House, a unit of that Authority next to Alexandria City Hall, holds a long-term cache that he hid.
Moss notes that original emphasis was on caches in natural settings, usually coupled with hiking. Presently, he endorses a balance in locations through growth of "urban-style hides." Moss is quick to add that gaming in established neighborhoods requires a greater sense of responsibility on the part of cachers; trespassing is to be avoided and permission of property owners is encouraged.
Manager Susan Hellman and curator Helen Wirka at Carlyle House say that cachers do hunt there, but the numbers are not large. This is surprising in light of a Federal program begun three years ago. The National Park Service created the "Star Spangled Banner Geotrail" as part of the bicentennial commemoration of the War of 1812. Carlyle House was selected as one of the trail locations.