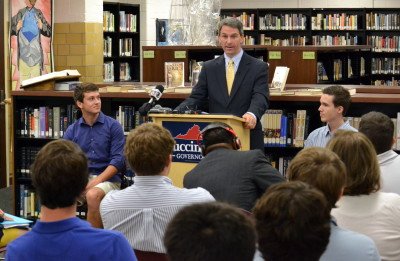 Politicians love to talk about failing schools. As an abstract concept, they are an easy target. But when an actual school is identified as a failing school, the reality become a bit more complicated.
That's the situation Jefferson-Houston School finds itself in as the parents and teachers prepare for the coming school year. Test scores have been so low for so long at the school that state leaders are about to seize control from the local school division, which has been unable to increase test scores to an acceptable level for the last decade. Now Republican candidate for governor Ken Cuccinelli is outlining new proposals for failing schools such as Jefferson-Houston.
"It's not good enough if the children who live in the right zip code are excelling in the classroom and moving on to college and graduate schools while families trapped within a low income community have a mediocre education at best and a failing school at worst," said Cuccinelli during an event this week in Richmond. "We need to implement an education plan based on the idea that every Virginia child deserves a high-quality education — no matter where they live."
The solution, according to Cuccinelli, is to provide parents with more options. If elected, Cuccinelli said, he would work to enact legislation that would authorize a majority of parents whose children attend a failing school to petition for one of four reforms. One would be to simply close the school and send the students to a higher performing institution. Another option would be to change the leadership at the school. The Republican candidate also supports tax credits that would allow parents at failing schools to send their children to private schools. But the option that's already been discussed for Jefferson-Houston would be to transform it into a charter school — one of the possibilities under consideration by the Opportunity Education Institution. Critics say parents deserve a role, but allowing them to force the creation of a charter school or firing a school's leadership team might be going too far.
"Parents aren't education experts, typically," said Del. Rob Krupicka (D-45). "They are not trained teachers. They are not trained school administrators. There are a lot of complexity to running a school that doesn't always play out well in translation."
IN VIRGINIA, charter schools are few and far between because of how the law works. For a charter to be created, members of the local school board must agree to hand over tax dollars that would otherwise be under the control of the local school division. As a result, no charter schools have ever been created in Northern Virginia. Advocates for charter schools say that's a problem, one that Cuccinelli's proposal could remedy.
"Our tax dollars are going to Jefferson-Houston, but we're not having any success," said Vicki Vasquez, a Republican who focused an unsuccessful campaign for the House of Delegates on a platform of promoting charter schools. "So let's take those dollars and put it into an effort where you would get parental involvement and faculty involvement."
For parents at Jefferson-Houston the conversation about charter schools isn't an abstract political debate about which candidate is elected governor. It's a real-life problem at a school that has failed to meet accreditation standards 10 out of the last 11 years. Many parents say that leaders at Alexandria City Public Schools have already had their chance to fix the problem, and that they have failed again and again.
"I think it's a good idea for new people to step in and take over," said Bea Porter, whose grandson attends the school. "The local school system has failed Jefferson-Houston for too long."
CHARTER SCHOOLS have the ability to work independently of the local school division, which means a charter school at Jefferson-Houston might be able to have longer hours or a different curriculum than the rest of the public schools in the city. Critics say that Jefferson-Houston already had longer hours than other schools and a curriculum designed to help improve failing test scores. Although the Alexandria School Board has talked about the possibility of creating a charter for the school, no action has taken place in that direction.
"Creating a charter school at Jefferson-Houston is certainly on the table," said School Board member Bill Campbell. "If the community wanted a charter school, there's no reason we couldn't manage that here in Alexandria rather than some board appointed by the governor."