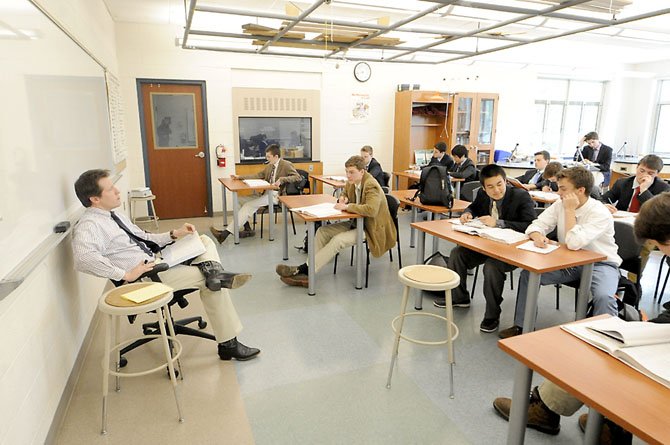 "In the summer, children have more control over their lives. When they get ready to back to go to school, they control nothing. Parents and teachers tell them what they have to do."

-Dr. Alice Young, professor of education, Marymount University in Arlington
For some children, the transition from laid-back summer days to intensely structured school hours can be jarring. Moving from an environment where one's greatest challenge is deciding whether to choose chocolate or vanilla ice cream, to a routine that calls for getting dressed before dawn, heading to school and paying attention in classes all day can be jolting
One of the most challenging aspects of returning to school, say experts, is children's loss of some control over their schedules. "In the summer, children have more control over their lives," said Alice Young, Ph.D., a professor of education at Marymount University in Arlington. "They have greater ability to make decisions about what time they're going to wake up and what they will do next. When they get ready to back to go to school, they control nothing. Parents and teachers tell them what they have to do."
"Humans are innately routine-driven beings," said Len Annetta, Ph.D. professor in the College of Education and Human Development at George Mason University. "Whether or not it is hard wired or a learned behavior is often debated. Regardless, our bodies and minds often function better once in a routine. Parents would be wise to … start their children with a breakfast that is … consistent with what they will have during the school year [and] limit screen time to just educational activities or activities that get the brain thinking analytically."
There are schedule modifications that parents can implement now to make the first day of school less jolting, however, and local education experts offer tips that range from gradually modifying a sleep schedule to planning after-school activities.
"Start getting back into a school-year sleep schedule," said Ashley C. Lowry, the upper school academic coordinator and Advanced Placement U.S. history teacher at Connelly School of the Holy Child in Potomac, Md. "It's important that students hit the ground running. Continuing to stay awake until midnight or later will not provide students with the brainpower needed to start the year off right."
A sleep schedule adjustment is particularly important for middle and high school students. "Get them up earlier for those needed doctor and dentist appointments before school starts," said Lisa Turissini, Ed.D., chair of the Department of Education at Marymount University. "This age group loves to sleep in and some adjustment to an earlier schedule is really a good idea. You can also have them go to bed earlier to assist getting up earlier each morning."
Ann Richardson Miller, director of admission at The Madeira School in McLean, said, "Sufficient sleep is critical to academic success. While harder to enforce at home, we believe strongly that this one simple thing can ensure success for transition into high school."
Maintaining an element of joy is key, say experts. "Do some practice wake ups, but make it fun, not stressful," said Shannon Melideo, Ph.D., associate dean, School of Education and Human Services at Marymount University. "Give incentives for getting ready quickly and calmly."
For all students, getting organized is a critical part of the back-to-school process. "Review their school and class schedules with them," said Turissini. "When is lunch? Will they have healthy alternatives or bring lunch from home?
"Do they have all their school supplies? Make a date to go shopping," Turissini continued. "This is a great time to have them organize their closets and drawers to see what clothes can be donated and what clothes they need."
Label and color-code notebooks and binders. This "will help students feel confident and start the year with a clear mind free of clutter," said Lowry.
Melideo said, "Get a weekly clothing organizer for clothes, hang a calendar, make a new chores schedule that is the most efficient for all members of the family."
In fact, calendars and planners are key, said Turissini, who suggests using them to plan and coordinate extracurricular activities. "Lay out after-school activities, school-related and nonschool-related," said Turissini. "Get a family calendar going."
DESIGNATE AN AREA for completing homework assignments. "Do they have a work area set to go at home to complete homework each evening?" asked Turissini. "Is there a set time each evening for this to happen? Will there be certain evenings when everyone is present for family dinner together?"
Setting goals, both academic and personal, is important when beginning a new school year. "All school divisions, private or public, have some sort of grade-level objectives," said Melideo. "Find the appropriate grade-level goals and spend a few minutes with your child reading over what they will learn and set some goals."
Such goals are helpful in creating a smooth back-to-school transition. "For example, ride a bike, read a chapter book, hit a double, [learn to] tie shoes, [make the] honors list," said Melideo. "Write those goals down and put them in a place that the student can see often."
Young says that parents should help children choose attainable goals. "Success breeds success. Early in the school year, set goals that are achievable," she said. "A bad goal is 'I'm going to make straight As this semester' if the child made Ds and Cs last semester. A better goal, for example, would be, 'I am going to turn in all my homework and not having any missing assignments during the first session.'"
One hurdle children and parents face when making the transition from the more relaxed summer schedule to the demands of the academic year is the mental preparation for the pace and discipline that school requires, said Michael S. Moynihan, head of the Upper School at The Heights School in Potomac, Md.
"As study requires focusing one's attention and energy on texts or material to be mastered, it is necessary to start to build up the mental habits of focus and contemplation before one jumps into the classroom," he said. "The best practical way for parents to help their children do this is to build set reading times into the daily schedule in the days leading up to the start of the school year. Wise parents will help their children choose reading materials that are a bit challenging.."
To help jumpstart brainpower, Lowry suggests "spending two to three hours a day on school-related work. This can be working on required summer work, or exploring academic areas of interest. This helps dust off the cobwebs."
Melideo recommends taking trips to the public library to find books or resources about topics a child will cover during the school year. Melideo said, "For example, third graders in Virginia often learn about ancient civilizations. Get some books on ancient Egypt."