There are many other things that children can do besides sledding and ice skating."
— Shannon Melideo, chair, Education Department at Marymount University
Winter weather often means limited open air playtime for some children. "It is very important for children to get as much outdoor activity as possible, but there are times when it is not safe for them to be outside for an extended length of time, or any time at all, because it is too cold. " said Shannon Melideo, chair of the Education Department at Marymount University in Arlington. "There are many other things that children can do besides sledding and ice skating."
While experts say many parents fear that too much time spent inside can lead to cabin fever, they add that there are a myriad of ways to have winter fun without leaving the warmth of your home. "There are numerous creative opportunities for children to express themselves indoors. Parents can sneak in educational experiences when the children don't know it," said Melideo, who lives in Reston.
Paula Keyes Kun, spokeswoman for the American Alliance for Health, Physical Education, Recreation, and Dance (AAHPERD) and the National Association for Sport and Physical Education (NASPE) offers activity ideas that are geared for outdoor play, but that can easily be adapted for indoors. "Pretend you are at a zoo. Identify an animal: Move and sound like that animal. Pretend to be a growing flower: First you are a tiny seed in the ground, and then grow into a big flower."
Other imaginative indoor play ideas Kun offered include asking children to pretend to be a balloon, first without air, then being blown up, floating around and finally being popped. Asking a child to pretend to move like different foods, such as melting like a popsicle or popping like popcorn, is also fun and creative.
Put a pen to paper, say experts. "Because of texting and email, many children don't spend time writing 'snail mail,' said Christie Westermann, a fourth grade teacher at Norwood Elementary School in Potomac, Md. "Children can decorate blank postcards, learn how to properly address a piece of snail mail and write special notes to friends and relatives."
Melideo agrees that writing can be a fun and educational indoor activity, and suggests writing thank-you notes for holiday gifts as well as making Valentine's Day cards for family and friends. She says this is an ideal way to incorporate writing skills with fun: "You have to ask yourself what your child can do developmentally," she said. "If they can write their name, then they can make the rest of the card with stickers. Children can make two or three each day and they will have something they are proud of, and family members always need to be told they are loved."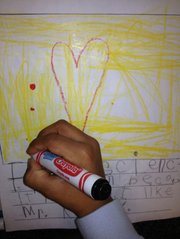 Fourth grade teacher Alysha Akbar, a graduate student in the education program at George Mason University in Fairfax, adds, "While the winter weather has prevented my fourth graders from enjoying outdoor recess, the cold has not kept their hands idle," she said. "Many of my students enjoy making beautiful, three-dimensional snowflakes. We hang them from the ceiling and they are very simple to make. The children also keep busy indoors playing with Lego blocks, drawing and, of course, reading."
Melideo says that creating a family photo album where children get to create the captions or playing a game of charades are also great indoor pastimes. "Play charades with a theme, where maybe one person comes up with clues, throws them into a hat around a theme like the holidays or a family experience. Children are using creativity, memory, connecting in a fun way and getting excited an expressing themselves.
Westermann adds that students can practice math skills while whetting their taste buds by choosing a favorite dish to prepare: "Have your children dream up something yummy to eat [like] cookies, brownies or cinnamon rolls, then look online for a kid-friendly recipe," she said. "Children can hone their math skills through measuring. Monkey bread is a fun, easy and yummy recipe for children."
Using modern technology to connect with family members who live in other parts of the country is another indoor pastime, say experts. "Call, Skype or Facetime and read to grandparents or other family members," said Melideo. "Children practicing reading before for an audience helps them develop fluency. Parents should encourage them to rehearse beforehand. They can also read a poem or something that they wrote. This is also a self-esteem boosting exercise because they get positive feedback from the grandparents or relatives."
Melideo concludes by suggesting scavenger and treasure hunts: "You can even start with an outdoor hunt where the treasure brings them back inside to find hot cocoa and cookies."