Alexander Stone of McLean received top honors in the 2013 Signature Theatre Idol competition on Aug. 3 at the Tony Award-winning Signature Theatre's annual Open House held in Arlington. Stone is a rising junior at McLean High School.
The annual Signature Idol competition searches for talented, undiscovered singers in the DC metropolitan area. It is held in conjunction with the Signature Theatre Open House. For his first competition entry, Stone presented "In These Skies," from the musical "Ace." Judges selected Stone to participate in the competition's final round where he presented "Prayer" from "The Scarlet Pimpernel." The competition judges were Signature Theatre Artistic Director Eric Schaeffer, Broadway's Tony Award nominee Carolee Carmello and WETA's Robert Aubry Davis. Sarah Ann Sillers of Potomac, Md. was the runner-up.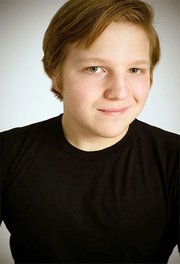 "I was excited to be selected to participate in this competition and have a chance to perform. ... It was a special treat to hear encouragement and advice from the panel," said Stone. At the "Broadway on the Plaza" Grand Finale of the day-long Signature Open House, he performed "In These Skies."
In his full summer of theater training, Stone attended the University of Michigan's in-residence, audition-based MPulse Performing Arts Vocal Arts Institute in July. "I was humbled to meet and hear that vocal quality of fellow students attending Mpulse ... it has helped my musical theater voice that much more."
Upon completing MPulse, Stone, along with fellow McLean High School students senior Nancy Pruett and junior Rachel Lawhead attended The Open Jar Institute in New York City. They were selected from nearly 1,200 teens from around the country who auditioned for the honor. The three McLean students each were selected to fill one of only 60 available spots for the intensive training. The Open Jar Institute seeks out students who have uncommon abilities and potential, as well as determination and passion.
At Open Jar, one-on-one training was received from Broadway's finest performing artists and master classes conducted by the legendary composer and Tony Award recipient John Kander and Tony Award winning director and choreographer Susan Stromen.
For his future, Stone added "I am excited about the possibility of pursuing theater as a career. I certainly know that the way is not easy. We will see how opportunities present themselves. As they arrive, I will work to be as prepared as possible."