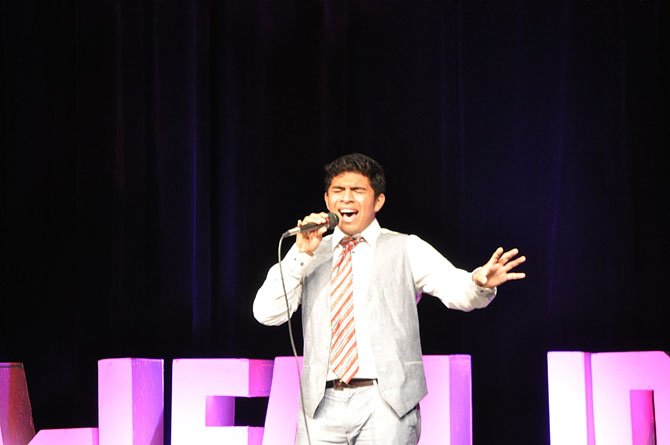 Sophomore Josh Delgado took top honors in the third annual McLean Idol competition. The award winning McLean High School Theatre Company (MTC) conducted the competition in cooperation with the McLean Choral Department, Oct. 3-5 in the Burks Auditorium. Junior Abby Huston claimed the second position with third place going to freshman Renee Zhang. With commentary provided by local theater celebrities, the audience selected the winners by popular vote.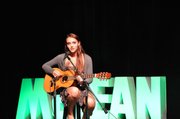 On Saturday, Oct. 5, the 13 finalists from the previous two evenings of competition came together for the contest's final night. Following his performance of Rolf Lovland's and Brendan Graham's "You Raise Me Up" at Friday's preliminary contest, Delgado presented a rendition of Jon Secada's "Angel" at Saturday's finale. Huston, accompanying herself on guitar, reprised her ethereal performance of "The Broadripple is Burning" by Morgot & the Nuclear So and So's. The show's final performer, Zhang, presented a powerful version of Destiny's Child's "Stand Up for Love." The three award-winning performers were joined Saturday by ten fellow students covering a range of artists from James Taylor to Lady Gaga, Elvis Presley to Rihanna. Additional McLean Idol finalists included Nicole Sheehan, Helena Doms, Tori Garcia, Jeffrey Nolan, Emily Swett, Genesis Pedraza, Jasmine Gomez, Rachel Lawhead, Jennifer Rose, and Alex Stone.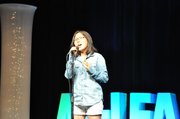 Judges for this year's idol included Jane Kalbfeld, casting director and a founding artist at 1st Stage Theater in McLean, Walter (Bobby) McCoy, MTC Musical Director with numerous similar credits at Keegan, 1st Stage and McLean Community Players, and Kelly Glass Gray, a D.C. performer of more than 25 years with a repertoire including film, theater, modeling, choreography, and stage combat. Kalbfeld said, "I was incredibly impressed by the song choices. Each of them chose
a song that was just right. That is probably one of the hardest things to do. To choose a song that is going to convey … you." Gray added, "It takes a lot of guts to get up here and do this in front of your friends, to put yourself out there like that. They all did a great job."
MTC next presents Annie opening the Friday after Thanksgiving and continuing for a two-weekend run, Nov. 29-Dec. 7. Annie is the perfect family-friendly musical and rightly timed for the beginning of holiday celebrations.
For ticket information, visit www.mcleandrama.com.
McLean Theatre Company comprises students, parents and teachers at McLean High School working together to produce challenging and award winning theatrical productions. The home of McLean Theatre Company is the 700 seat Burks Auditorium and the more intimate 75-seat Black Box Theater at 1633 Davidson Road, McLean.