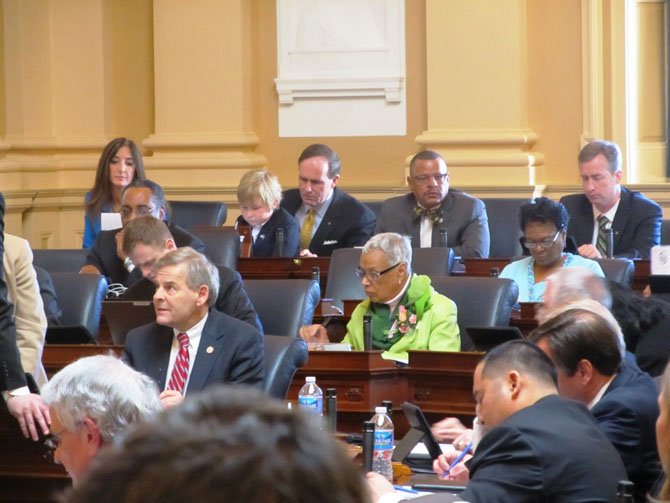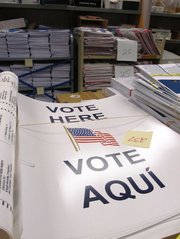 Election Day, Tuesday, Nov. 5.
Polls will be open from 6 a.m. to 7 p.m.

Voter Identification: When you arrive at your polling place, a voting official will verify that your name is on the registration list. Voters will be asked to present one valid form of identification. It can be any of the following:
• Virginia voter registration card
• Valid Virginia driver's license
• Military ID
• Any Federal, Virginia state or local government-issued ID
• Employer issued photo ID card
• Concealed handgun permit
• Valid student ID issued by any institution of higher education located in the Commonwealth of Virginia
• Current utility bill, bank statement, government check or paycheck indicating the name and address of the voter
• Social Security card (does not satisfy special federal ID requirements)
A voter who does not bring an acceptable ID to the polls will be offered a provisional ballot.
Important: Virginia's existing voter ID requirements will change in July 2014. A law requiring photo identification at the polls was signed into law in May of 2013. This new photo identification requirement will not to take effect until July 1, 2014. The current law allows for the acceptance of all identification documents listed above.
While the Virginia governor's race is the one getting the most attention, both nationally and in the state, Virginia's House of Delegates race is shaping up to be the most competitive in a decade.
According to an official candidate list released last month by the Virginia State Board of Elections, 57 House seats will be contested this November — marking only the second time in the last decade where at least half of the 100 House seats will have more than one name on the ballot.
How to Register
Eligible voters in Fairfax County must be 18 years of age, current U.S. citizens and live within the county. Applications to register to vote by mail can be found at the Department of Motor Vehicles, public libraries, military recruitment offices, public assistance agency offices, government centers, Board of Supervisors offices, the citizen information desk at the Fairfax County Government Center lobby or at the Judicial Center information desk.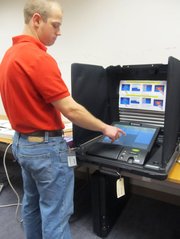 2013 is the second election cycle since the House Republican leadership redrew district boundaries following the 2010 Census. In 2011, voters in nearly two-thirds of the 100 House districts had no choice on the ballot.
Of the 57 contested races, 44 include races with at least one Republican and one Democrat, and most of the two-party races on the ballot will take place in Northern Virginia (see chart.)
Throughout the state, 43 of the 100 House districts are uncontested, meaning there is only a single candidate on the ballot. Delegates Ken Plum (D-36) and Charniele Herring (D-43) are the only uncontested candidates in Fairfax County.
Each member of the Virginia House of Delegates serves two-year terms, represents approximately 80,000 citizens and receives an annual salary of $17,640.

The Virginia Senate consists of 40 members. Each member is elected for a term of four years and receives an annual salary of $18,000.
The Virginia General Assembly meets annually, beginning on the second Wednesday in January, for 60 days in even-numbered years and for 30 days in odd-numbered years, with an option to extend annual sessions for a maximum of 30 days.
On the Ballot 2013
Virginia does not have "no excuse" absentee voting. If you want to complete a Virginia Absentee Ballot Application, download from www.SBE.Virginia.gov, or call 703-222-0776. The application must be mailed or faxed to the Fairfax County General Registrar's Office. The office is located at 12000 Government Center Parkway, Suite 323, Fairfax. The registrar's fax number is 703-324-3725.
Virginia does offer in-person absentee voting. See http://www.fairfa...">www.fairfaxcounty... for details.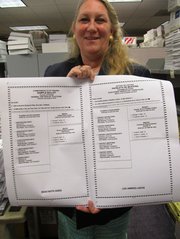 GOVERNOR
*Ken T. Cuccinelli (R)
LIEUTENANT GOVERNOR
ATTORNEY GENERAL
House of Delegates 2013 Elections
Local Races With Major Party Challengers:
District 34—Democrat Kathleen Murphy challenges Republican incumbent Barbara Comstock.

District 35—Republican Leiann Leppin challenges Democratic incumbent Mark Keam

District 37—Republican Patrice Winter challenges Democratic incumbent David Bulova

District 39—Republican Joe Bury challenges Democratic incumbent Vivian Watts

District 40—Democrat Jerrold Foltz challenges Republican incumbent Tim Hugo.

District 41—Republican Fredy Burgos and Independent Christopher DeCarolo challenge Democratic incumbent Eileen Filler-Corn

District 42—Democrat Ed Deitsch challenges Republican incumbent Dave Albo

District 53—Democrat Marcus Simon faces Brad Tidwell (R) and Anothy Tellez (L) to replace retiring Del. Jim Scott (D)

Distict 67—Democrat Hung Nguyen challenges Republican incumbent Jim Lemunyon

District 86—Democrat Jennifer Boysko challenges Republican incumbent Tom Rust
Local Races With Only Third-Party Challengers:
District 38—Jim Leslie challenges Democratic incumbent Kaye Kory

District 43—Glenda Gail Parker challenges Democratic incumbent Mark Sickles

District 44—Joe Glean challenges Democratic incumbent Scott Surovell

District 45—Jeff Engle challenges Democratic incumbent Rob Krupicka

District 47—Laura Delhomme challenges Democratic incumbent Patrick Hope

District 48—Lindsey Bolton challenges Democratic incumbent Bob Brink

District 49—Terry Modglin challenges Democratic incumbent Alfonso Lopez
Local Uncontested Races:
District 36—Democratic incumbent Ken Plum

District 46—Democratic incumbent Charniele Herring
Fairfax County Sheriff's Special Election
Stacey Ann Kincaid (D)
Bryan A. "B.A." Wolfe (R)
(no site listed on SBE)
Christopher F. DeCarlo (I)
Robert A. Rivera (I)
(no site listed on SBE)
School Bond Referendum
On Election Day, Tuesday, Nov. 5, Fairfax County voters will be asked to vote YES or NO on the $250 million school bond question in the general election. The schools plan to use the money to:
• Build two new elementary schools, one in the Richmond Highway area and one in the Bailey's area
• Help renovate 22 schools including 17 elementary schools, two middle schools (Thoreau and Rocky Run) and three high schools (Langley, Herndon and Oakton)
• Buy land for the South West County High School
• Enhance the capacity of Westbriar Elementary and South Lakes High School
• Replace or improve infrastructure, such as roofs, major mechanical systems and parking lots.
See http://www.fcps.edu/news/bond13.shtml for more details.
Key Political Sources and Websites for Fairfax County Voters
The Virginia State Board of Elections page provides a detailed list of candidates, website information available for each candidate and sample ballots. Scroll down the "Locality" bar to Fairfax County to filter the election search, or go to "Elections" and scroll down to "November General 2013."
For more information on the state legislature, go to virginiageneralassembly.gov.

Voters with any questions about voting this Election Day can visit two comprehensive websites for answers: The Virginia State Board of Elections website at www.sbe.virginia.gov and The Fairfax County Office of Elections website at www.fairfaxcounty.gov/voterinfo.

If you don't find the information you need at the websites, call the Office of Elections at 703-222-0776.

Fairfax now has a free smartphone mobile app to check your registration and other voting information. Download the free app by searching Fairfax County Government at the App Store (coming soon to Android Market) or go to http://www.fairfaxcounty.gov/news/mobile/. Once you download the app, look for the "VOTE" icon.
Following are links to other sites election officials suggest voters check out before Election Day: