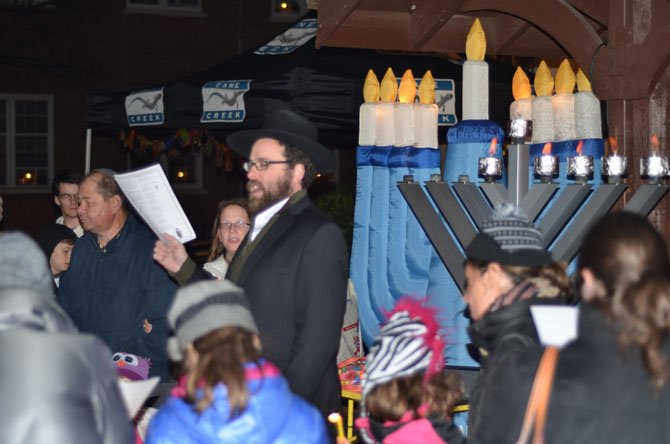 There was a festive atmosphere on Sunday night as members of the community came to the Herndon Town Square to celebrate Chanukah. "The message of Chanukah is a story of religious tolerance and a victory of good over evil," said Rabbi Leibel Fajnland of Chabad Reston-Herndon. The event was open to the public and more than 50 persons came to attend.
"I was very pleased and happy to see a lot of children at the event, and happy with the turnout," said Arthur Nachman. "In all the years we have been doing it, this is the largest turnout for this event. I think this is due in part to the Herndon Chamber of Commerce and also in part of the work of Chabad Reston-Herndon." Howard Nachman, brother to Arthur Nachman, handed out toy dreidels to children in the group.
Elysa Birman, resident of Herndon and member of the Council for the Arts of Herndon had proposed to the Herndon Chamber of Commerce that a separate event be held to celebrate Chanukah. Birman's husband Igor and their daughters Ashley and Zoey were also attending the evening celebration. "We are very excited to celebrate Chanukah at this spot," said Elysa Birman.
"This is amazing, it is nice to see this for Chanukah," said Herndon resident Linda Downer. Members of the Nachman family of Herndon were invited to help light the first five candles of the menorah, one for each night of Chanukah, which began last Wednesday night. A menorah provided by the Nachman family has been present at the Herndon Town Square during Chanukah season for more than 30 years.
Herndon resident Blake Rose and his son Brian were videotaping the evening event for Herndon HCTV, a nonprofit community television station which can be seen on COX channel 23 in Fairfax County and FiOS channel 28. "We have a video segment called "Around Our Town" and we intend to include tonight's event there," said Blake Rose.
"A night of Chanukah is incomplete without a little music," said Rabbi Fajnland, and the assembled group sang several Chanukah songs including "Maoz Tzur" and "I Have A Little Dreidel." Rabbi Fajnland handed out chocolate coins to kids in the crowd. After the menorah was lit, everyone was invited to enjoy latkes and donuts, as well as Chanukah-themed crafts for the kids.
To learn more about the Chabad of Reston-Herndon, visit their webpage at www.chabadrh.org.