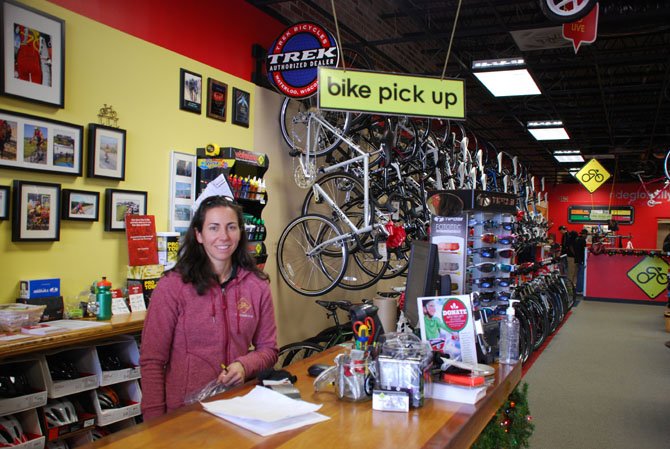 Following the controversial additional shopping hours on Thanksgiving, the typical fray on Black Friday, and the online melee of Cyber Monday, Small Business Saturday is positioned in a highly competitive shopping storm.
American Express started the event, posturing it as a nationwide "movement" to get consumers energized about supporting their locally owned and operated restaurants and retail stores. They claim to offer partner businesses promotional materials and guides to run their own PR campaign, and entice AmEx card-holders to dive in with $10 rebates on purchases (with a prior registration).
Ten dollars may not make the difference in deciding on a large purchase, but presumably American Express figures if it's enough to help bring more foot traffic in independently owned doors, the shop keepers can do the rest.
In Burke and Springfield, two stores experienced two different versions of Small Business Saturday this year.
"It wasn't terrible, but it wasn't better than an average day," said Jen Cortesi, general manager of the Springfield location of The Bike Lane. Based on other years, Cortesi was expecting more foot traffic on Small Business Saturday, but this year there was surprisingly little by comparison. And of the customers who did make it out, only one family mentioned the American Express promotion, she said.
HUSBAND AND WIFE TEAM Todd and Anne Mader opened the community- and customer service-focused bike shop in 2001 after pursuing careers as an accountant and social worker, respectively. Eight years later the couple opened a second shop in Reston. The shops are known for their healthy mix of price points for road, mountain and hybrid bikes and accessories, as well as their involvement with local races, safety initiatives and bike service seminars.
The store manager observed there may have been less hype surrounding the day than previously, less information communicated to the public through various media. But, as she said, "It's always hard to say what changes" from year to year -- "it's a question of expectations."
"It hasn't been a stellar year for retail, with Sequestration, the shutdown," Cortesi continued. "People spend differently when they're missing a month's salary." The extra free time on the sales floor also gave the Bike Lane team time to speculate about the trickle-down effects of the modified shopping calendar this year.
With more stores open on Thanksgiving to get the jump on Black Friday, and extended hours on Black Friday itself, perhaps more shoppers were in need of a financial and physical break come Saturday -- at least more so than in previous years.
Members of The Bike Lane team did come out to support their shop. "It was a nice gesture," said Cortesi. But it wasn't the kind of new business American Express seems to want to promote. "The day has potential," Cortesi continued. "It seems like it has more."
OVER IN BURKE, Billie Thomas, owner of the diverse home decor and gift shop The Picket Fence, experienced a much different turnout. "We were pleased," she said. "We were very happy with the response to it and everything."
Thomas's shop has been around for five years, and stocks everything from baby and bath items to decorative home decor, tea and potpourri. With a wide variety of merchandise, Thomas endeavors to sell as much American-made product as possible, like a collection of hammered silver candleholders and plates from Pennsylvania designer Wendell August.
"We try just to find unique things you're not going to see any place else," said Thomas.
Despite not being able to process American Express cards, The Picket Fence still drew a crowd on Saturday, according to Thomas. "It is hard to say this time of year because of the holidays," she said, but "the majority of the people that came in did mention they were here because of Small Business Saturday. We have great loyal customers anyway, but it just brings them out even more."
Thomas and The Picket Fence are also running a book drive for INOVA Children's Hospital, and scheduled a drawing for a $50 store gift certificate to coincide with Small Business Saturday.
Regardless of the single-day turnout -- whether above or below expectations -- both businesses are hopeful for increased awareness and community involvement going forward to the next Small Business Saturday. "It's nice to be recognized as a small business," said Thomas.