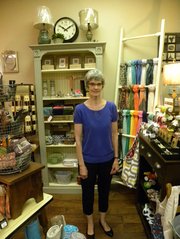 Is it at the town center or the shopping center? Burke residents know.
The Picket Fence is at the Burke Town Center, next to a newly-opened Sweet Frog, a Giant grocery store, a BB&T bank, a dry cleaner and a Starbucks. Owner Billie Thomas believes that The Picket Fence is situated in a prime location.
"The variety of stores brings customers in," she said.
Celeste McLane, of Burke has been to the store a couple of times. Today, she is looking for a gift for the babysitter.
Thomas said that customers want to find unique things. A lot of their products are U.S. made and come from small business retailers.
"People come during their lunch breaks and they need a gift" and when they find it the store wraps it up for them for free, she said.
Thomas co-owns the store with her daughter Courtney Thomas. She has always worked at a store. She worked at Temptations Gifts, a card and gift store in Burke that has since closed. And, her parents owned a store when she was growing up.
"We're a family-owned, small business" in Burke, she said. The Picket Fence is located at 6025-D Burke Centre Parkway.