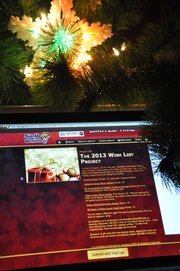 With a little help from her friends, Great Falls resident Ginger Mahon, founder of The Wish List Project, has taken The Wish List high-tech. A Wish List "Angel," donor Lissa Perez, assisted Mahon with building online sign up capability for The 2013 Wish List Project on the website "SignUp Genius." Perez is a Great Falls resident and partner at Deloitte & Touche, LLP.
Now Wish List Angels are sent email invitations and the link to sign up for any of the holiday gift items requested by families in area shelters and teens in Fairfax County foster care. In her email announcing the new online capability, Mahon says,
"This year (our 14th year making a difference!) will bring a new and exciting way for ALL to see the Wish List requests, choose and donate. You will receive all the information: easy to share with family, friends and office mates with just a 'click' using SignUp Genius link . . . YOU are going to make this an amazing year for children and families in need this holiday!"
Once again, The Wish List Project is part of Paisano's "Share the Pie" campaign. Paisano's "Pizza, Pasta, Subs, Strombolis, Wings & More," with locations in Reston, Vienna and Herndon, will donate 10 percent of any order on Sunday, Dec. 15 that mentions "The Wish List." 100 percent of donations will go directly to The Wish List.
Another Wish List Angel and donor of the past 14 years, Patrick Devlin of Great Falls, has already delivered bins that are ready and waiting for the donated gifts that will be dropped-off no later than Saturday, Dec. 14.
The visual impact of the online list re-emphasizes the enormous need that The Wish List has fulfilled for the past 14 years, benefiting over 325 gift recipients last year. The list of gifts already pledged is impressive, but there are items requested by families and foster teens still to be selected and donated. You really don't have to be a genius, just generous. Contact Mahon at gingermahon@aol.com for the email invitation and signupgenius.com link.