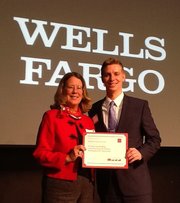 The Shepherd's Center of Oakton-Vienna (SCOV) was recognized by the Vienna Branch (Maple Avenue) of Wells Fargo Bank for their outstanding commitment to seniors in the community. SCOV was also the recipient of a donation $1,000 for their work addressing vital community needs. Thirty-three other local agencies and schools were also honored at Wells Fargo Bank's "South Potomac Days of Giving" breakfast 2013 held earlier in the month. SCOV serves seniors in the Oakton, Vienna, Dunn Loring, Merrifield and portions of Fairfax and Reston areas.
Founded in 1997, SCOV is a nonprofit organization dedicated to providing opportunities for adults (50+) to seek rewarding lives and to live independently in their homes for as long as possible. In 2012 SCOV provided services and programs to more than 3,000 older adults in the region. SCOV was voted the Best Nonprofit of the Year (2012) by the Vienna Tysons Regional Chamber of Commerce. In September, 2013 SCOV was selected the Charity of the Month by WTOP 103.5FM Radio.
Continuing their service to the community, on Dec. 14 from 5-8 p.m. the Shepherd's Center of Oakton-Vienna and the Vienna Community Center will be hosting a Senior Holiday Social (for those 50+) at the Vienna Community Center, 120 Cherry Street SE, Vienna. For tickets and information, contact SCOV 703-281-0538. In addition to hosting this event, SCOV will offer one of their services by providing rides for those who wish to attend, but no longer drive.
To learn more about the Shepherd's Center of Oakton Vienna, visit www.scov.org or contact Michelle Scott, Executive Director at 703-281-0588 or director@scov.org.